"Towards White"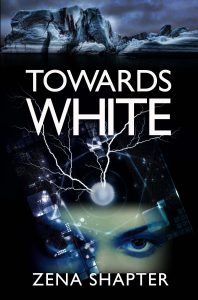 "I sink down into my seat on the midnight Flybus and wish the Icelandic passengers would stop staring at me. I'm sure they don't mean to make me feel uncomfortable, that would be a negative thing to do. But the subtlety they're attempting simply isn't working. I've seen their multiple side-glances, gazes roaming the carpeted aisle only to pass over me. Too many people have pretended to look out my window—though at what I don't know. It's the early hours of the morning and there's nothing but black outside. Probably, they're just curious. They want to know if I'm one of them, and, if I'm not, to assure me that I should be. Still, I wish they'd stop. They're not the reason I'm here."
– They know what's going to happen to you… after you die. Scientists in Iceland think they've figured out one of our greatest mysteries – where the electrical energy in our brains goes after we die. According to the laws of physics, one form of energy must always become another form. So the electrical energy in our brains and nervous system can't simply disappear… When ex-lawyer Becky Dales travels to Iceland to track down her missing brother, she doesn't care about the groundbreaking discoveries, or the positive-thinking practiced by the Icelanders – she just wants her brother back. Having stumbled on something she thinks the Icelandic government wants covered up, Becky must piece together the answers fast… before she becomes a victim herself.
"The Time of the Jade Spider"
 – published, NBWG 2017.
– Best Book, 2016 WABIAD National Open category.
– co-authored with the NBWG WABIAD team.
"The winner was clear, the narrative was a page-turner! The story flowed seamlessly and the characterisation was fantastic. A good old fashioned time slip story! Perfect for middle grade readers." Paul MacDonald, The Children's Bookshop at Beecroft
"Fin couldn't sleep, which made no sense. He'd slogged his guts out in Captain Godfrey's garden all day, and as soon as the sun was up he'd have to do so again. "Hard labour, it's your best chance at reform, lad," the Captain had said when Fin and the other convicts first arrived at his grand North Sydney property, Craig Lodge. "You'll keep my gardens pristine and you'll be happy to do so, you understand? I know you have some education, but that won't keep you from the lash if you misbehave." With options as clear as that, of course Fin had chosen to behave."
– Fourteen-year-old Fingal O'Grady is convicted of theft and transported to Australia in the 1820s. Almost two centuries later, fourteen-year-old would-be beautician Abigail Harrington finds a mysterious spider amulet and their two worlds collide. When both children are kidnapped they realise they're in possession of an object with enormous power. The Peacock Spider of Tien Shan leads them on an exciting and dangerous journey where nothing is what it seems. Will Fin ever find his place in time?
"Darker"

 – re-print published, Dead of Night: The Best of Midnight Echo 2016. Awarded Australian Shadows Award for Best Edited Work 2016.
– First place, 2013 Australian Horror Writers' Association short story competition.
– Semi-finalist, Writers of the Future (1st Quarter, 2013).
– published, Midnight Echo 10 (Midnight Echo, 2013). Awarded a star review, Tangent Online.
"Zena Shapter's "Darker" is dark fantasy at its blood-soaked finest. Its setting is evocative and sharply drawn, its storyline emotionally gruelling and possessing a surprising sting in the tale. Highly recommended." Guy Salvidge
"I want to read good stories. When I come across one that fills me with the kind of excitement and suspense and pure pleasure that made me want to become a writer, I want people to know about that story. Go read "Darker."  Go read more of Zena Shapter's work. Go like her page on Facebook. You'll be glad you did. … Good worldbuilding, strong characterizations, and surprising plot twists. The feel of this story calls to mind the work of Robert E. Howard and C.L. Moore." Lillian Csernica, for Tangent Online

"Sipping apple tea under the dappled shade of our palm tree grove, I cannot imagine a better life. On the carpets beside me, my wife is nibbling dates, her black beaded hair caressed by a desert breeze so dense with heat it drapes its intensity over us before passing. My son, Gimaal, lies on his stomach, elbows propped on a floor cushion, gazing at the five strangers who have stopped at our farm in search of respite and a drink from our well. Beyond us, the irrigation canals I finished digging this morning quench my fields. Green shoots spring from moist soil and an earthy aroma fills the air with promise. Kharak birds chirp in the branches above us, palm fronds rustle as if talking, and the cerulean sky arches wide above us. I have everything I could want…"
– Kelek loves his life. His small farm is sheltered from the desert by a grassy ridge. He could gaze into the eyes of his wife Yaxeem forever. And although his son Gimaal pines for the city of Darquesh, Kelek is teaching him to value wide arching skies. But when a cavalcade of traders stop at his farm one day for respite from the heat, Kelek must make a decision that will change his life forever…
"Like the Web of a Swamp Spider"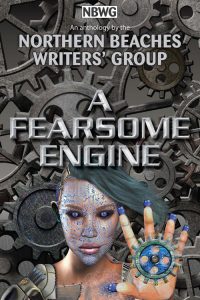 – published, A Fearsome Engine (NBWG 2016).
"Midday on our hillstead is the quietest time. Charles is long gone, far across our hill to tend the sheep. Our two children are busy at their academy. I've milked the cows and set the butter to churn. The odd hover shuttle roars in the distance, dropping from hill to hill for those who can afford to travel that way. Occasionally the wind picks up, rattling our windows with a solitary sigh. Otherwise it's just me, the tinny ping of our conferencer as I cmail invoices and orders, and the tree swamp surrounding the base of our hill, as well as every other cultivated hill on Pagussi, croaking and dripping with such constancy I hardly notice it anymore. I wish I still did."
– Friendship is about forgiving each others' mistakes, and accepting others for who they are… only in some conditions that's easier said than done. On a distant planet, with limited technology, her hillstead surrounded by swamp – Salee must face her worst fears.
"Into Tordon"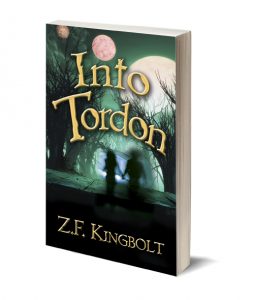 – published, MidnightSun 2016.
– co-authored under the pen name 'ZF Kingbolt'
"An impressive debut! A pacy, exciting read!" Books & Publishing
"It's Harry Potter on steroids! A must-read for kids and adults." Susanne Gervay
"The narrative doesn't falter, and middle-grade readers will delight at how quickly they are thrown into the action of the story… Into Tordon is a pacy, exciting read that middle-grade readers will love getting sucked into." Bec Kavanagh, Books+Publishing Review
"Into Tordon is an exciting read. Fast-paced, fun and clever… But this book isn't all action and adventure. The two teens begin with preconceived notions of each other and as they journey… They each find a strength to themselves they didn't know they had… Into Tordon is a book perfect for middle grade readers looking for an adventure with no romance. It's fun and exciting with readers never quite knowing what to expect next." Kate, Fictional Thoughts
A timely book aimed at a young audience reminding them that girls can be champions too… The story is fast-paced and exciting…" Verushka Byrow, The Children's Book Council of Australia, Reading Time.
"Beginning with an adrenalin-pumping computer-gaming championship, Into Tordon throws its 13-year-old main characters into a real-life scenario that is as full of risk, riddles and threats as any computer game – or is it, in fact, a computer game? It takes Beth and her antagonistic rival Zane through a fascinating range of cultures and other-worldly scenarios as life-threatening situations and brain-teasing mysteries forge a bond of mutual dependency that grows gradually into Beth and Zane's firm friendship… full of sudden twists and intriguing turns." Katharine England, SA Weekend, Well Read.
"The action and adventure in this story keeps the reader on their toes. Surviving being eaten by a large snake being one obstacle to overcome. This is a great read for kids aged 9-14 years and will suit both boys and girls to match the two main characters… Enjoy this action packed adventure." Melinda McNaughton, Creative Kids Tales.
"Beth studied the screen, her heart pounding. This was it—the level she'd fought to reach for months. A horde of angry beastmen raced towards her avatar, yelping as they leapt over the mossy rocks and logs of Tordon's forest. Spears were raised in their hands and saliva-dripping mutts bound beside them, barking and growling in frenzy. Beyond them, past towering tree columns, a hanging man swung from a gnarled old gumtree, his ropes creaking as he dangled over a square chasm. Beth's palms grew sweaty. Whoever cut down the hanging man would end the game and score fifty extra points, which would be enough to win Beth the entire championship. The anniversary championship…"
– Thirteen-year-old Beth has been waiting for weeks to play in the championship of her favourite online game, Tordon. Now tribes of beastmen roar through her speakers. Game on! She plays to win, until her gaming nemesis Zane challenges her to a real-life risk that has them sucked into a strange world. Here they must push their skills to the limit just to survive! Faced with riddles, a multitude of dangerous creatures, exotic cultures and scientific impossibilities, Beth and Zane are forced to take on challenge after challenge if they're ever to return home.
"Let The Tempest Hold Me Down"
– published, Hugo-finalist Sci Phi Journal 2016.
– reprint published, Sci Phi Journal: The Journal of Science Fiction and Philosophy, Anthology Edition #1 2016.
"Fabulous read from a strong and prolific SF writer!" Kim Falconer, Quantum Encryption Series
"When I glide into the yellows of our forest glen, I cannot hear the other steam spirits as I should. There are no deep fatherly voices calling to their sons, no wide-grown blades whipping the wind as fathers and sons fly together and chase microbes to eat. Blade axis rods should trill as they spin through the tubular bodies of old and young alike. Yet only the lighter flight and chatter of my cousins drift down from the thick steam above, and an unusual stink twists through the humid wisps around me – of hot blood and damp leaves. Why can I not hear any fathers? Did my cousins wait until I had to feed, then strike? I hesitate to look down, already sensing a carpet of dead steam spirits will lie beneath me among the tree roots…"
– Tek has long believed in leading a different life. When tragedy strikes close to home, he's more determined than ever to prove himself. Only hindsight will reveal how devastating his actions will be…
"Rider & the Hummingbird"
– Best Book, 2015 WABIAD National Open category.
– published, NBWG 2016
– co-authored with the NBWG WABIAD team, also won Most Sponsored Book.
"A strong, original, well-written, suspenseful and dramatic tale…!" Chloe Mauger, CBCA WA
"Lan tossed his dog-eared copy of CNET magazine over the side of his bunk. It hit the floor with a thunk and a crash. A crash? He glanced over the edge. His roommate had left half a glass of blackcurrant cordial on the floor and now it was rolling over the tiles while a small purple puddle seeped across the magazine's headline: Cool Tech. He grunted and laid back down. Technology was only cool when it was new, and this magazine was already months old. Of all the downsides to being in juvie, the worse was not knowing the latest news. On the outside, Lan could have simply surfed the magazine's website for the latest tech buzz. But no one in the High Country Youth Correctional Facility was allowed internet access. For a computer nerd like Lan, that was like telling him not to breathe…"
– Fourteen-year-old Lan is a computer genius… and a prisoner. After poking around in exactly the wrong websites, Lan's interest in drones has landed him in the High Country Youth Correctional Facility. Not a good start. Lan is resigned to his fate until he discovers that the mysterious hacktivist who framed him is part of a plot to kill thousands of people, including his mum and dad. With the help of Monk and his ferret, Lan breaks out of jail, and races to prevent a disaster that could change the face of Australia forever.
Ditmar Award
'Best New Talent'
– Best New Talent, Ditmar Award.
– Ditmar Awards celebrate achievements in speculative fiction writing.
The Ditmar Awards have been awarded annually since 1969 at the Australian National Science Fiction Convention (the "Natcon") to recognise achievements in Australian science fiction, fantasy and horror writing. The award for Best New Talent is the industry's show of support for and vote of confidence in a single writer and their writing.
"Champions"

– First place, Glen Miles Short Story Prize 2013.
– published, Award Winning Australian Writing (Melbourne Books, 2014).
– epublished, Bass Coast Post 2013.
– published, Waterline Anthology (Waterline Writing Competition, 2013).
"The author, uniquely, uses a Gonzo-esque stream of consciousness as a literary device, reminding me very much of the works of Hunter S. Thompson. Without a linear narrative, unsure if this is a letter, a conversation, a phone call or just the jumbled thoughts of a broken heart, the reader is compelled to simply hang in there and question. Beautifully crafted and well told, this important story deserves to be read many times… It's an excellent story which I read many times, and which never failed to move me." Gareth Barlow, Glen Miles Short Story Prize Judge

"Can you believe it? Twenty-four years ago today, our sons were playing soccer on a damp field in Manly Vale. I remember because of the date. I remember the odd raindrop thwacking onto my windscreen as I drove down from Allambie Heights, in that old Holden Gemini of mine. When I saw you on the sidelines, you looked over the sky and said it would pass. I laughed and called you too optimistic for your own good. The clouds bulged dark, thick with it. The air had that dampness that always makes me sneeze. But you, in your faded ripped jeans and shoulder-padded jacket, said a bit of rain never hurt anyone…"
– Watching their two boys play soccer every Saturday impacts two mothers for a lifetime…
"A Dolphin for Naia"

– Best Book, 2014 WABIAD National Open category.
– published, NBWG 2014
– co-authored with the NBWG WABIAD team, also won Most Sponsored Book.
"When a book conjures multiple story questions and powerful themes that leave you yearning for the answers in the first few pages, you know that you are in for an absorbing read — which is exactly how A Dolphin for Naia starts… These questions create a flawless narrative tension that drive through the book like an unrelenting heartbeat." Francine Scull, Buzz Words
"This novel has it all! A brilliant, fast-paced adventure… A Dolphin for Naia serves up a fantastic mix of mystery, sci-fi and family intrigues …an engaging and creative story." Jo-Ann Whalley, Writing WA
"The hire car was not as comfy as Grams' truck back in Perth. After she sold the circus, she kept the truck so Mase and his sister Naia could lie down in its sleeper compartment on long trips. But in this tiny pine-stinking car, Mase had to stay upright, and the seat belt kept digging into his forehead whenever he leant sideways to rest. They'd been up so early to catch their flight and now he was tired. Once they were past the traffic-congested roads around Sydney airport and on the highway towards Cataract Dam, the car rocked more gently. Its rhythm lulled him towards sleep and the silence soothed his head, still sore from the baby who hadn't stopped screaming on their flight across the country. Yet it felt like only minutes had passed when Grams' voice cut through the haze…"
– When thirteen-year-old Mason's parents left him to live on the other side of the country, he swore he would never forgive them, or the invention that kept them so busy… Now they've called him back, promising they can be a family again. But when Mase and his grandmother arrive, the caravan in the shadow of the giant dam is silent and his parents are gone. All that remains is a cryptic message begging him to bring their strange dolphin-like creation to the coast. Mase suddenly finds himself caught in a race where the price of failure is higher than he could ever have imagined. Will he ever see his parents again?
"Shy"

– published, AntipodeanSF Issue 192 (June, 2014).
– narrated, The AntipodeanSF Radio Show.
"Our skies are covered in everlasting cloud, except for one hole we call the Break. It arrives above our island at the same time each day — letting the sun shine on the same hillside. My village hurries to lie here on mats, to soak up what warmth we can while chatting and buzzing along with dazzling sunbeams. Too soon, though, the Break glides away…"
– Evie is torn between three lives: the life she has, the life she needs, and the life she believes will never come. Trapped in their island village, her brother knows better than she does which life will be hers.
"Scribbles in the Dark"

– Best Book, 2013 WABIAD National Open category.
– published, NBWG 2014
– co-authored with the NBWG WABIAD team, also won Best Illustrations & Most Sponsored Book.
"Scribbles in the Dark is not only a gripping, fantastical read that you'll not want to put down but it is rippled with many strong messages pertinent to young people and adults alike – dealing with loss and grief, belonging, family bonds and connectedness. The characters are rich with back stories that are cleverly woven through the story arc and the subplots make this novella even more gripping… Read it and enjoy the ride." Francine Scull, Buzz Words
"A story that should be widely read and enjoyed… a good dose of both fantasy and reality… It balances necessary loss with a satisfying and happy ending, providing an emotionally charged yet ultimately hopeful reading experience. This is a book to be treasured…" J C Burke, CBC Book of the Year Winner
"The floorboards of Cal's bedroom vibrated from the rhythmic thud and strumming twang of country music. Some superstar wannabe was wailing his hardest downstairs in the pub, all for the glory of winning The Winton Hotel's monthly open-mic session. It was driving Cal insane. Nan and Pop started the competition a couple of years back, to encourage the locals. Cal wished they hadn't. The stink of smoke and stale beer was never so bad as when the comp was on, and the locals came regardless. Theirs was the only pub round these parts. There was no other place big enough for everyone to get together, not for miles…"
– Fourteen year old Callum has long wondered what happened to his father… He's lived with his grandparents above their pub in Australia's outback since his father disappeared, six years ago. But one day the rains come and, along with his foster brother Jake, Cal and his tiny dinosaur sculpture are transported into another world, where questions are answered, and lives changed. Why is Jake scared of the scribbly gumtrees? Who is the mysterious girl? Can they ever return home?
"A Sprig After Rain"
– Shortlisted, 2013 Trudy Graham and Julie Lewis Literary Award.
"Weighting Time"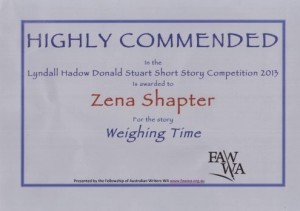 – Highly Commended, 2013 Hadow/Stuart Short Story Competition.
"This is excellently written. There is no 'over-the-top' emotion; it is all there, but carefully presented through the remembrance of the child as she had once been, and the sorrow that the memories bring. Handling the emotions so carefully makes them so much more effective, and this is another story to remember." Judges' comments
"The Something Said"

– First place, 2012 Fellowship of Australian Writers Manly & Peninsula Short Story Competition.
– published as "Our Something Said", You, Me & a Bit of We (Chuffed Buff Books, 2013).
"Absorbing and unique." Editor's comments
"A beautifully written, poignant narrative, involving a sick child and a mother's unbearable angst." Judges' comments
"In the heart of every mother lies the fear that, one day, their child might be taken from them. For some of us, though, it's more of a knowledge. In movies, when we see a mother screaming because their child is gone, we nod to ourselves, knowing it will one day be us. We're not sure whether we'll lose our children to drugs, violence or alcohol – after all, our kids are only three, four, maybe five – but still we know, with absolute certainty, that it will happen…"
– A story written in first person plural, which is where verbs are told with the personal pronoun 'we'. It's an incredibly tricky POV (point of view) to master, but in this story it works a wonder!
 "A Knight Answers"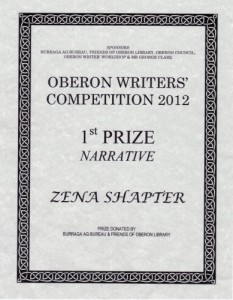 – First place, 2012 Oberon Writing Competition.
"Deep"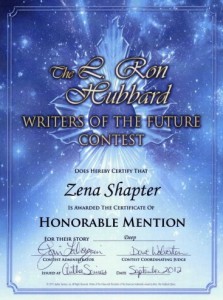 – Honourable Mention, Writers of the Future (2nd Quarter, 2012).
"Finding My Way"
– shortlisted, The Pittwater Award 2012.
"Portrait of a Model"
– First place, 2011 Fellowship of Australian Writers Manly & Peninsula Short Story Competition.
"A powerful story well told. Entertaining and thought provoking. Clever title too." Judges' comments
"Invisible Dirt"

– First place, 2011 Oberon Writing Competition.
– published, Award Winning Australian Writing 2012 (Melbourne Books, 2012).
"The creaking of the door disturbs my sleep again. At first I'm only half awake but then the foul wheeze rasping in and out of his mouth croons consciousness to me. He's coming into the bedroom. Cowering under my doona's soft folds, I watch the hall light shining through the door's hinges. It creeps up my Flower Fairy wallpaper. A paw appears around the door, coarse red hairs jut over long claws that twitch with excitement. He's been salivating over this moment. I hear him lick away the moisture dripping through his snout. He pushes the door wider. Blackened gums and sharp teeth loom over the top of the door, followed by beady yellow eyes that feast on my delicate body…"
– A visit home has Martha reconsidering her haunting past…
"Trigger"

– published, Winds of Change (Canberra Speculative Fiction Guild Publishing, 2011).
"The three commanders hardly noticed the door click shut behind me, only acknowledged my presence when I began limping up to the transcription podium. I rubbed the pain from my thigh and surveyed each of them as they fought to regain their composure. Had I met any of them before? No. Still, I felt certain they would have heard about me. In fact, I was relying on it."
– Change is only ever a breath away. Its arrival may be as swift as a slamming door or as slow as the inevitable march of evolution. It can pass unseen while a situation slowly unfolds, or dramatically as everything we know is swept away. In "Trigger", change comes to Captain Amro of the Serein Border Mular Outpost, a man so obsessed by love he misses something he may regret the rest of his life…
"Breakthrough"

– published, A Visit From The Duchess (Stringybark Publishing, 2011).
"Through the turret's underwater porthole, I watch my husband swim blind and defenceless towards the humans. The fishermen aren't hunting for us in the darkening navy ocean, their lines are baited for fish. But other dangers lurk in the rocks at night – sea stars, crabs, seagulls. A high-pitched squeak pierces through the silence. Has something gone wrong already? I squeeze my muscle against the glass and still my gills. The sound stops. The squeal came from me."
– Leah knows that the last thing her planet needs right now is war. Yet her husband's research is also vital to their species' survival…
"A Dragon's Back"

– epublished (Parenting Express, 2012).
Thanks to my Twitter followers for saying this story is…
"a moving piece of writing"
– Kirsten Krauth
"honest and thoughtful… brave"
– Kirsten Alexander
"as a mother they talked to me. Very powerful"
– Kylie Scott
"I wanted to believe them. Sitting on the kitchen floor, cradling my knees and rocking, I wanted to believe them. It was my expectations, my parenting, our isolation from family far away – anything but him."
"The Voice"

– epublished (mStories, 2011).
– published, 'mStories' Honours Thesis (Jessica Frawley, 2011), p.44 (p.53 of online PDF)
"Shapter's story uses repetition, synonymy, antonymy, meronymy, hyponymy and collocation to provide intersemiotic connection between visual and lexicosemantic meaning-making elements." PhD candidate, studying how increasingly visual and multimodal the semiotic landscape is becoming and using The Voice of an example of a new literacy reshaping and redefining literacy as a whole.
"In the playground before the kids arrive, I wonder who will believe in me today. I decide to wait under the bridge, where they will cross to reach the slippery dip and imagine a grumpy old troll underneath. When they are laughing and distracted by their play, I'll creep inside their minds and show them why they shouldn't forget who gives them bad dreams at night. I might even make them stop in their tracks, mid-laugh, and look around. Is everything okay? Are we still playing a game?"
"From Here to There"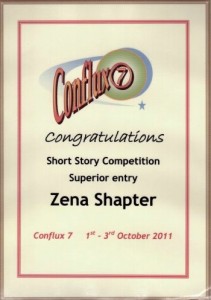 – superior entry, 2011 Conflux 7.
"Fighting Off The Foxes"
– First place, 2010 Fellowship of Australian Writers Manly & Peninsula Short Story Competition.
"A well-written and moving story that tackles a difficult topic with sensitivity and insight." Judges' comments
"Once, Upon A Wattle"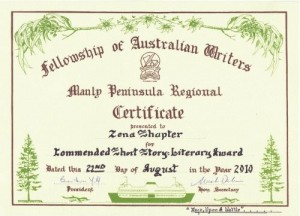 – Commended, 2010 Fellowship of Australian Writers Manly & Peninsula Short Story Competition.
"There are enough twists and turns to make this story a lot of fun." Judges' comments
"Diamonds in the Sea"
– shortlisted, Page Seventeen 2009.
"just the way things are"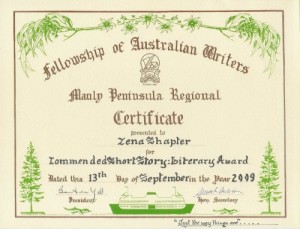 – Commended, 2009 Fellowship of Australian Writers Manly & Peninsula Short Story Competition.
Want to Read?
If a story is free to read, its cover should link through to its digital existence.
Otherwise, stories are available for purchase through publishers' websites or your favourite online retailer, such as Amazon.
Save
Save
Save
Save
Save
Save
Save
Save
Save
Save
Save
Save
Save
Save
Save
Save
Save
Save
Save
Save
Save
Save
Save
Save
Save