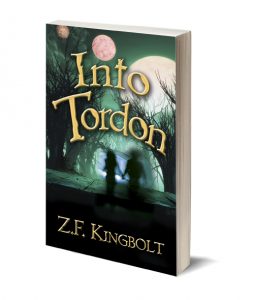 "Into Tordon"
Thirteen-year-old Beth has been waiting for weeks to play in the championship of her favourite online game, Tordon. Now tribes of beastmen roar through her speakers. Game on! She plays to win, until her gaming nemesis Zane challenges her to a real-life risk that has them sucked into a strange world. Here they must push their skills to the limit just to survive! Faced with riddles, a multitude of dangerous creatures, exotic cultures and scientific impossibilities, Beth and Zane must take on challenge after challenge if they're ever to return home. Read more here!
What They're Saying
"This is an impressive debut… The narrative doesn't falter, and middle-grade readers will delight at how quickly they are thrown into the action of the story… Into Tordon is a pacy, exciting read that middle-grade readers will love getting sucked into."
Bec Kavanagh, Books+Publishing Review
"It's like Harry Potter on steroids!"
Susanne Gervay, author 'I am Jack'

"Annabel devoured the book, loved it! Had to take it off her at 10pm that night and she finished it next morning. Well done!"
Claire, Mum of Annabel
"Into Tordon is an exciting read. Fast-paced, fun and clever… But this book isn't all action and adventure. The two teens begin with preconceived notions of each other and as they journey… They each find a strength to themselves they didn't know they had… Into Tordon is a book perfect for middle grade readers looking for an adventure with no romance. It's fun and exciting with readers never quite knowing what to expect next."
Kate, Fictional Thoughts
"A timely book aimed at a young audience reminding them that girls can be champions too… The story is fast-paced and exciting…" 
Verushka Byrow, The Children's Book Council of Australia, Reading Time.
"Beginning with an adrenalin-pumping computer-gaming championship, Into Tordon throws its 13-year-old main characters into a real-life scenario that is as full of risk, riddles and threats as any computer game – or is it, in fact, a computer game? It takes Beth and her antagonistic rival Zane through a fascinating range of cultures and other-worldly scenarios as life-threatening situations and brain-teasing mysteries forge a bond of mutual dependency that grows gradually into Beth and Zane's firm friendship… full of sudden twists and intriguing turns."
Katharine England, SA Weekend, Well Read.
"The action and adventure in this story keeps the reader on their toes. Surviving being eaten by a large snake being one obstacle to overcome. This is a great read for kids aged 9-14 years and will suit both boys and girls to match the two main characters… Enjoy this action packed adventure."
Melinda McNaughton, Creative Kids Tales.
Sales of the following wonderful stories go towards The Kids' Cancer Project, leading research into childhood cancer… You can support this worthy cause by simply buying a book!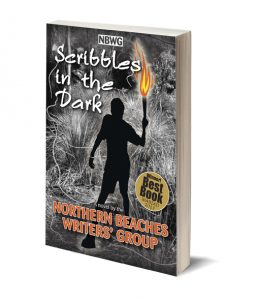 "Scribbles in the Dark"
(Best Book, WABIAD 2013)
Fourteen-year-old Callum has long wondered what happened to his father… Callum has lived with his grandparents above their pub in Australia's outback since his father disappeared, six years ago. Then the rains came. Along with his foster brother Jake, Callum and his dinosaur sculpture are transported to another world, where questions are answered, and lives changed. Why is Jake scared of the scribbly gumtrees? Who is the mysterious girl? Is there any way home? Read more here.

"A Dolphin for Naia"
(Best Book, WABIAD 2014)
When thirteen-year-old Mason's parents left him to live on the other side of the country, he swore he would never forgive them, or the invention that kept them so busy… Now they've called him back, promising they can be a family again. But when Mase and his grandmother arrive, the caravan in the shadow of the giant dam is silent and his parents are gone. All that remains is a cryptic message begging him to bring their strange dolphin-like creation to the coast. Mase suddenly finds himself caught in a race where the price of failure is higher than he could ever have imagined. Will he ever see his parents again? Read more here.
"Rider & the Hummingbird"
(Best Book, WABIAD 2015)
Fourteen-year-old Lan is a computer genius… and a prisoner. After poking around in exactly the wrong websites, Lan's interest in drones has landed him in the High Country Youth Correctional Facility. Not a good start. Lan is resigned to his fate until he discovers that the mysterious hacktivist who framed him is part of a plot to kill thousands of people, including his mum and dad. With the help of Monk and his ferret, Lan breaks out of jail, and races to prevent a disaster that could change the face of Australia forever. Read more here!
"The Time of the Jade Spider"
(Best Book, WABIAD 2016)
Fourteen-year-old Fingal O'Grady is convicted of theft and transported to Australia in the 1820s.
Almost two centuries later, fourteen-year-old would-be beautician Abigail Harrington finds a mysterious spider amulet and their two worlds collide. When both children are kidnapped they realise they're in possession of an object with enormous power. The Peacock Spider of Tien Shan leads them on an exciting and dangerous journey where nothing is what it seems. Will Fin ever find his place in time? Read more here!
What They're Saying
"This novel has it all! A brilliant, fast-paced adventure… A Dolphin for Naia serves up a fantastic mix of mystery, sci-fi and family intrigues …an engaging and creative story."
Jo-Ann Whalley, Writing WA, 2014 WABIAD Judge
"When a book conjures multiple story questions and powerful themes that leave you yearning for the answers in the first few pages, you know that you are in for an absorbing read — which is exactly how A Dolphin for Naia starts… These questions create a flawless narrative tension that drive through the book like an unrelenting heartbeat."
Francine Scull, Buzz Words
"A really interesting, unique book – a great read!"
Arthur, aged 10
"The narrative was a page turner, the story flowed seamlessly and the characterisation was fantastic. A good old fashioned time slip story! Perfect for middle grade readers."
Paul MacDonald, The Children's Bookshop, 2016 WABIAD Judge
"I think it's good for readers my age because it's really interesting, it has really good visuals you can see in your head, and it has a good storyline!"
Dan, aged 13
"He has already read both books and he loved them!! He said he can't wait to read the next one!! Well done!!"
An 8 year-old reader's mum
"A story that should be widely read and enjoyed… It balances necessary loss with a satisfying and happy ending, providing an emotionally charged yet ultimately hopeful reading experience. This is a book to be treasured…"
J C Burke, CBCA Book of the Year Winner, 2013 WABIAD Judge
"Scribbles in the Dark is not only a gripping, fantastical read that you'll not want to put down but it is rippled with many strong messages pertinent to young people and adults alike – dealing with loss and grief, belonging, family bonds and connectedness. The characters are rich with back stories that are cleverly woven through the story arc and the subplots make this novella even more gripping… Read it and enjoy the ride."
Francine Scull, Buzz Words
"There are surprising plot twists, moments of high elation, and deep despair, personal challenges, red herrings and betrayals… This book tells a strong, original, well-written, suspenseful and dramatic tale…!"
Chloe Mauger, CBCA WA, 2015 WABIAD Judge
"It's very exciting and adventurous and you don't know what's going to happen next; like it's a mystery."
Sophia, aged 8
"These books represent a special creative bond, where 10 writers and illustrators have joined together to create delightful stories of young people on grand adventures. The stories are great fun and a credit to their editor, Zena Shapter, who was able successfully to unite the voices of different authors into cohesive story. This is no mean feat."
Award-winning author Susanne Gervay, of "Scribbles in the Dark" and "A Dolphin for Naia"
Want to Read?
Stories are easy to purchase through your favourite online retailer, such as Amazon.
Save
Save
Save
Save
Save
Save
Save
Save
Save
Save
Save
Save
Save
Save
Save
Save
Save
Save
Save