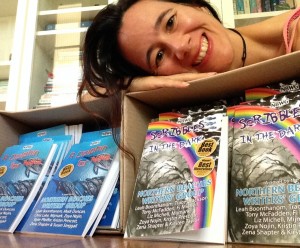 4 hr Workshop
Ready to share your story with the world? Your publication options can be overwhelming. Fear not! This workshop will give you the tools, advice, and resources you need to publish your very own book, in print or as an ebook. You'll gain an overview of costs, formatting necessities, useful jargon and timeframes, information about print runs, taxes, print-on-demand, and how to get noticed (if that's what you want!). You'll learn what's needed to make and distribute your book privately, online, or in bookshops. We look behind the scenes with a case study book and learn how to use a distribution platform to gain international exposure. Alternatively, if your goal is simply to print a book for family and friends, then this course will show you how. We cover:
goals
rights
design
formatting
distribution
online aggregates
launching
marketing
finances
websites
Gain an overview of the most popular self-publishing options and decide which is the best for you. Explore the self-publishing landscape as it is today and identify where you fit. Develop a to-do list to get your book from desktop to your preferred readers. Interested in self-publishing but don't know where to start – then this workshop is for you!
PLEASE NOTE: Although participants will not be expected to access the internet or use a computer during this class, to get the most out of it they should be familiar with and comfortable using both the internet and a home computer.
Want to learn about self-publishing?
Then please get in touch with the date, audience and venue you have in mind.
Alternatively, read about other available talks, workshops and seminars here.
Save