1 x 6.5 hrs or 2 x 3 hr Workshops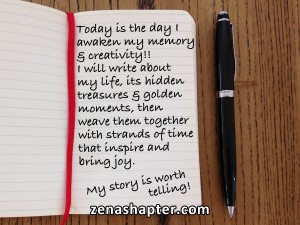 What story could be more important than the story of your life?
Whether it's for your family, friends or yourself – this course will guide and inspire you to write your life story. Awaken your memory and creativity! Tell readers about your experiences and inspire them! Irrespective of age, this course will help you record and weave your life story together. No writing experience is required, as there will be plenty of techniques and exercises you can use to get the essence of your life down on paper. Discover how to make your story both powerful and absorbing, how to create the road map that got you to where you are today, and how to bring details to life. Find the focus of your life story and learn how to turn it into a workable structure for your memories. Outline a plot skeleton in class! By the end of this workshop you will have a clear idea of what and how much you need to write. With in-class writing and editing exercises you'll discover how to turn your memories into stories, and where best to start telling your tale.
Your story is worth telling. Explore and share it!
Want to arrange a life-story workshop?
Then please get in touch with the date, audience and venue you have in mind.
Alternatively, read about other available talks, workshops and seminars here.
Save