Today I'm excited to announce the publication of my short story Let the Tempest Hold Me Down through Sci Phi Journal – click the link at end of this post to read it for free!
Sci Phi Journal is an online science fiction and philosophy magazine that 'explores questions of life, the universe, and anything that delves into the deep philosophical waters of science fiction universes'. My character is Tek, a steam spirit, and the blurb is:
Tek has long believed in leading a different life. When tragedy strikes close to home, he is more determined than ever to prove himself. Only hindsight will reveal how devastating his actions will be…
You can see Tek in the bottom left of the beautiful artwork below. I was thrilled to be allocated an illustrator and adore what his imagination produced! Thank you Daniel Beaudin of Septral Illustrations!
The idea for these creatures came from gazing up at clouds. The sky is such an enormous component of any world – so I started to wonder… what if sky-creatures existed somewhere? If so, what kind would they be, how and what problems might they have…?
This beautiful illustration makes them so real! Am I now a 'mother of spirits'?
Tek's come a long way too. Here is my original hand-drawn sketch of him: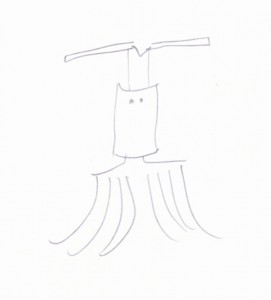 And here's a version I drew in Illustrator for use on social media headers: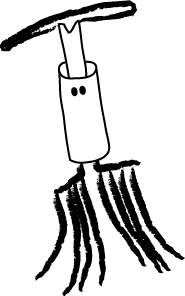 As you can see, he's been re-imagined somewhat – and that's totally fine with me. As a reader, I conjure up my own ideas of characters all the time! You might conceive of a different creature altogether when you read Let the Tempest Hold Me Down. Please let me know what you think!
In fact, if you like my story, please leave a comment at the end of the story itself. While the story is currently free to read on the Sci Phi Journal website, with your help it may be later added to a 'best of' print version, which means more bread sandwiches for me! Positive comments will help nudge my story towards selection, as would subscribing to the journal itself – it's only $4! As an official subscriber you get to vote on your favourite stories, and you get to feed authors, who get to split 60% of the subscription fees between them. There's always the option to pay more than $4 if you like!! #PayAuthors
Either way, I hope you enjoy the read. Here's the opening for my story.
When I glide into the yellows of our forest glen, I cannot hear the other steam spirits as I should. There are no deep fatherly voices calling to their sons, no wide-grown blades whipping the wind as fathers and sons fly together and chase microbes to eat. Blade axis rods should trill as they spin through the tubular bodies of old and young alike. Yet only the lighter flight and chatter of my cousins drift down from the thick steam above, and an unusual stink twists through the humid wisps around me – of hot blood and damp leaves. Why can I not hear any fathers? Did my cousins wait until I had to feed, then strike? I hesitate to look down, already sensing that a carpet of dead steam spirits lies beneath me among the tree roots. I shouldn't have left. Why did I believe Fen when he said everything would be okay, that I should feed as normal beyond the stream?
Click to read more! Why can Tek not hear any fatherly voices? What exactly's making that unusual stink of hot blood and damp leaves…?
ADDENDUM: Please note that this story is only free to read until 8pm Sunday 13th March 2016. After that it will be 'subscription only', which costs $4.