What a fantastic Friday! I was on the radio, in the newspaper (click on the clipping to read!), on a blog, and high after the Sydney launch of my co-authored book for 8-14yrs "Into Tordon" by Z.F. Kingbolt. I still can't believe that nine of us wrote it. Yes, nine! I'm so proud of each and every one of my co-authors. Over the last three years they have written, re-written, edited, plotted, re-plotted and emailed consistently with me over the creation and production of "Into Tordon". Their honesty, commitment and willingness to evolve as writers and produce such a high quality adventure fantasy blows my mind. Yes, there were of course hurdles. But we pushed through together and came out smiling. Here we are at the Sydney launch of "Into Tordon" last night, along with some of our fans:
Thank you Leah Boonthanom, Tracey Jackson, Tony McFadden, Liz Michell, Mijmark, Zoya Nojin, Kristin Prescott and Kirsten Taylor for allowing me to guide you, for trusting in my leadership and letting me play with your words until they were perfect. "Into Tordon" is awesome!
Want to know more about how "Into Tordon" was created and those hurdles I mentioned? The wonderful Michelle Troxler from The Write Tribe interviews me here, asking questions such as how long it took to create "Into Tordon" with nine authors involved, what lead to its creation, how we came up with the name 'Z.F. Kingbolt', the challenges of collaborative writing, and advice for other collaborators.
Into Tordon: Zena Shapter on writing and publishing a book together

For those of you who couldn't make the launch last night, here are some photos. While you're looking, why not hit 'play' on the radio broadcast below, podcast for your listening pleasure – the lovely Rosemary Puddy and Michelle Holmes from Radio Northern Beaches interviews myself and one of my "Into Tordon" co-authors, Kristin Prescott, about the Northern Beaches Writers' Group, raising money for The Kids' Cancer Project, our other group projects and of course "Into Tordon"!
Now, back to the launch…
It was held at Berkelouw Bookshop in Balgowlah, Sydney. Big thanks go to Lee Gray and her team at Berkelouw for letting us launch "Into Tordon" in their beautiful store. We really appreciate all the time and effort you put into this amazing event.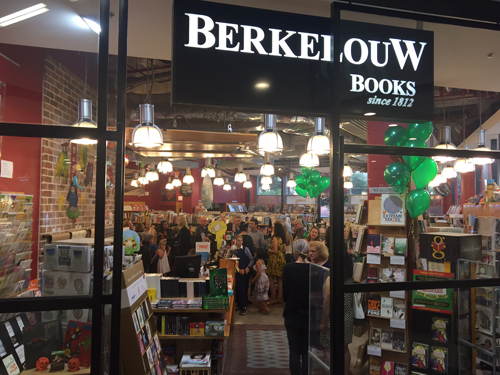 Thank you to the wonderful readers who left their homes and came out to celebrate with us. What would be the point of writing without readers to read! Books are awesome! Read more books!
There were juice poppers for the kids (thank you Lee!) and some "Into Tordon" prizes they could win by completing a colouring in sheet or word search (thank you for organising Zoya and Kirsten!)…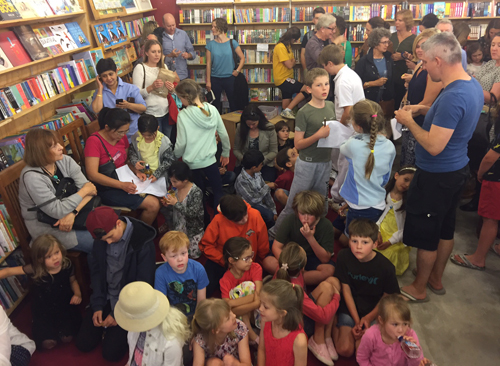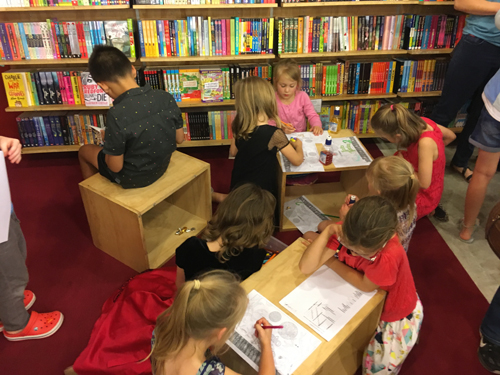 Meanwhile the adults mingled, ate nibbles (thank you for organising Kirsten!) and enjoyed some champagne (thank you for organising Kris!)…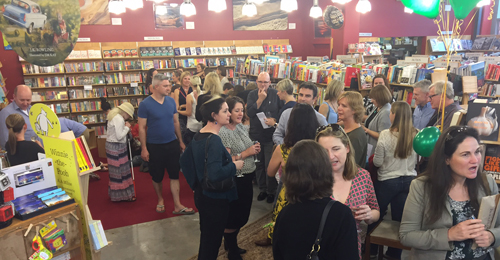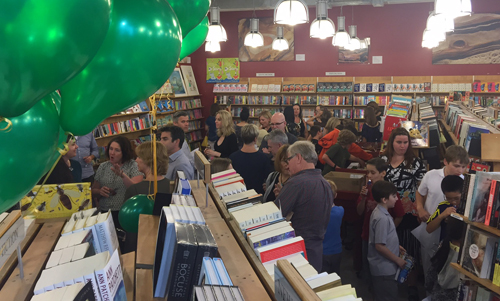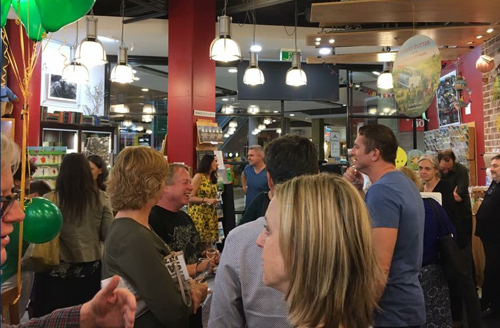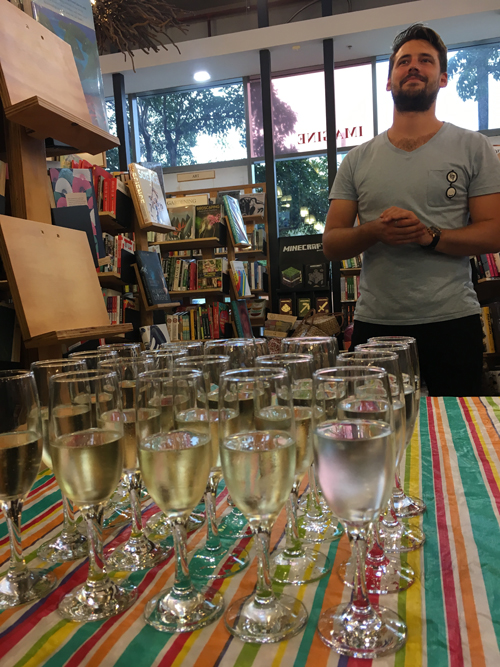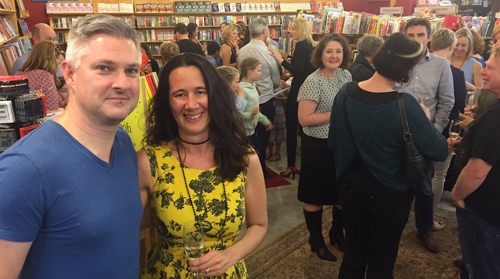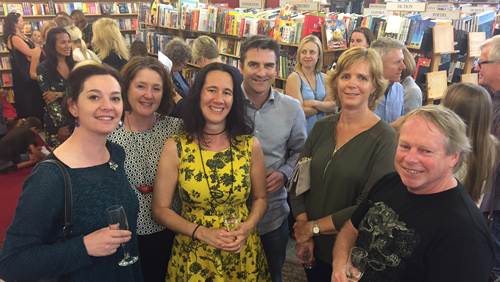 Then it was onto the speeches. We were so so lucky that the incredible Susanne Gervay – internationally bestselling author of the "I am Jack" series and Regional Advisor of SCBWI Australia East and New Zealand (Society for Children's Book Writers & Illustrators) – agreed to launch "Into Tordon". She loved the book and gushed endlessly and adorably about it, calling it "Harry Potter on steroids!" (though as my co-author Tony McFadden later said, we do not condone the use of performance enhancing drugs)!! Thank you so much, Susanne, for your kind and generous words!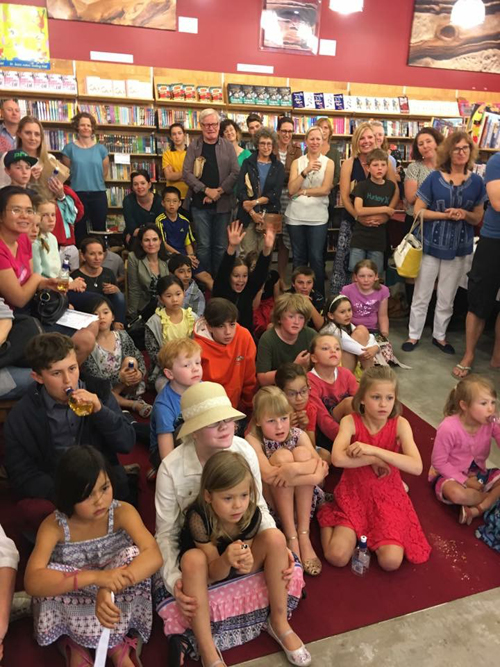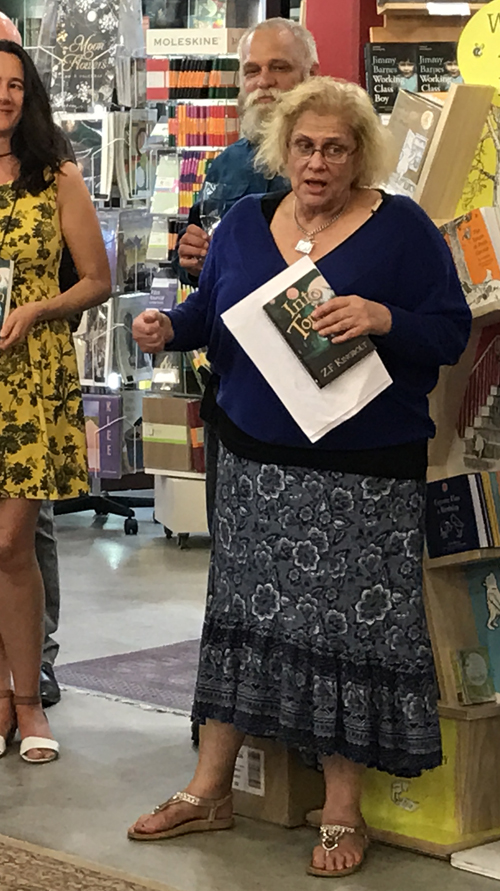 Susanne was so entertaining and delightful in her introduction of "Into Tordon" and the authors, people couldn't stop smiling! Then she introduced me specifically, as the 'glorious leader' of Z.F. Kingbolt or, as she phrased it 'benevolent dictator', he he… meant affectionately of course, though it caused a few chuckles among the other writers…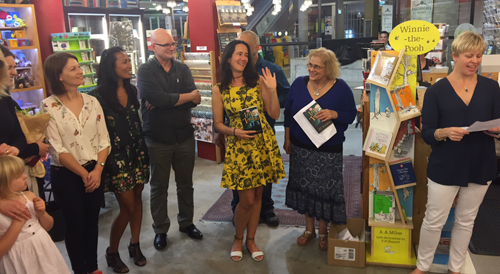 Then it was time for a book reading. I picked a section near the beginning, when our main characters experience something quite unexpected…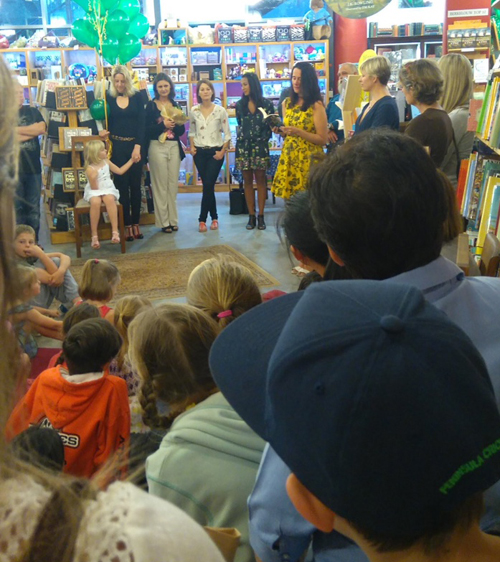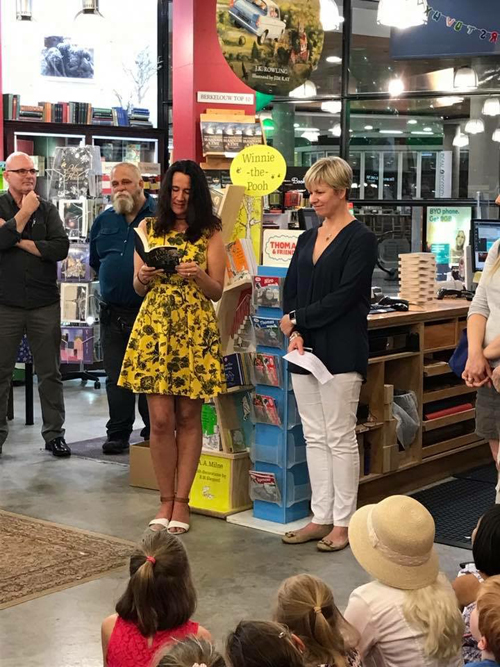 With the crowd now keen to read themselves, it was time to buy books and have as many of the authors as possible sign as many books as possible… what fun!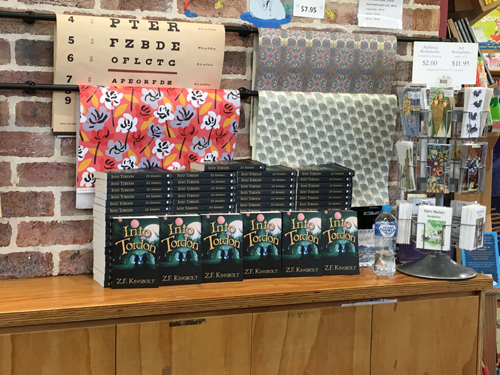 Adults were even buying the book for themselves after Susanne Gervay's high recommendation. Thank you Susanne! You are an amazing woman and it's a privilege to know you even just a little bit.
Good luck "Into Tordon", may your entry into the book world be smooth and well-received. I'll be appearing at our publisher's Adelaide launch on Saturday 19th November with some of my co-authors, 2pm at Shakespeare's Book & Coffee Shop in Blackwood. Come and meet the publishing phenomena that is MidnightSun Publishing, aka Anna Solding, and look out for "Into Tordon" – coming to all good bookstores from 1st November. It should be in school libraries across Australia too, thanks to Scholastic, so tell your kids / nieces / nephews / grandchildren to look out for it or ask about it. I hope "Into Tordon" engages its readers, whatever their age, with its brilliant storytelling and adventures, cultural diversity, and messages about acceptance, tolerance, gaming, and friendship. It's available for pre-order now through NewSouth Books, Booktopia and QBD. Follow Z.F. Kingbolt's journey on the website, Facebook, Twitter or Instagram.
Save
Save
Save
Save
Save
Save
Save
Save
Save