Lots of books arrived this week! My print copy of the Sci Phi Journal collection arrived, which I can't wait to read cover to cover. It includes my story 'Let the Tempest Hold Me Down', which was published in this Hugo-nominated journal last year.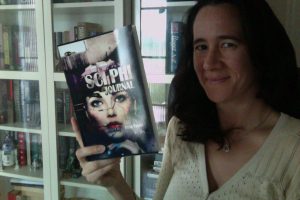 My story tells the tale of Tek, who has long believed in leading a different life. When tragedy strikes close to home, he's more determined than ever to prove himself. Only hindsight will reveal how devastating his actions will be…
Tek was beautifully illustrated by the amazing Daniel Beaudin for the journal itself:
Tek's journey begins thus:
When I glide into the yellows of our forest glen, I cannot hear the other steam spirits as I should. There are no deep fatherly voices calling to their sons, no wide-grown blades whipping the wind as fathers and sons fly together and chase microbes to eat. Blade axis rods should trill as they spin through the tubular bodies of old and young alike. Yet only the lighter flight and chatter of my cousins drift down from the thick steam above, and an unusual stink twists through the humid wisps around me – of hot blood and damp leaves. Why can I not hear any fathers? Did my cousins wait until I had to feed, then strike? I hesitate to look down, already sensing a carpet of dead steam spirits will lie beneath me among the tree roots…
To read more you simply contribute $4 via Patreon, which goes towards all the authors, or you can buy the print book I'm holding above for about $10.99. It includes 32 stories, articles and reviews.
All these books arrived too, because 'The Time of the Jade Spider' is here!!
These are books I publish and print to raise money for The Kids' Cancer Project, because the thought of kids in pain makes me too sad to bear and The Kids' Cancer Project is doing everything it can to stop childhood cancer. The launch for this particular book is tomorrow at 4pm in Manly Library, Sydney. If you can come along I'd love to see you, as would the other authors who wrote 'The Time of the Jade Spider' with me, all from my Northern Beaches Writers' Group. Together we created a fantastic time-slip fantasy for middle-grade readers (8-14yrs), about Fin and Abi:
Fourteen-year-old Fingal O'Grady is convicted of theft and transported to Australia in the 1820s. Almost two centuries later, fourteen-year-old would-be beautician Abigail Harrington finds a mysterious spider amulet and their two worlds collide. When both children are kidnapped they realise they're in possession of an object with enormous power. The Peacock Spider of Tien Shan leads them on an exciting and dangerous journey where nothing is what it seems. Will Fin ever find his place in time?
Sound good? It should – the story won the 2016 Open WABIAD Competition! Paul MacDonald of The Children's Bookshop at Beecroft said its "narrative was a page-turner! The story flowed seamlessly and the characterisation was fantastic. A good old fashioned time slip story! Perfect for middle grade readers". Here are the launch details: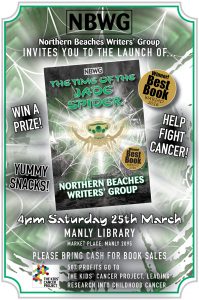 If of course you can't make the launch, do consider buying a copy to support this very worthwhile charity: 'The Time of the Jade Spider' is available for order right now via the major online retail bookstores like Amazon, Booktopia and Book Depository. In fact you'll find other books for sale on there also in support of The Kids' Cancer Project: 'Scribbles in the Dark', 'A Dolphin for Naia', and 'Rider & the Hummingbird'. Why not buy them all? He he… 🙂