How I Pay to be a Writer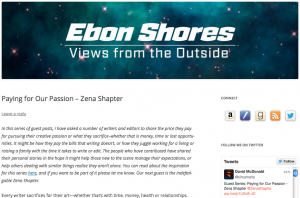 Sorry for the interruption, folks! The music blog series will finish after just a few more posts (I hope you're enjoying it!), but today I'm over on David McDonald's blog Ebon Shores talking about how I 'pay for my passion', and I thought you might like to read that.
David had the bright idea of asking a bunch of awesome writers and editors how they pursue their creative passions and what price they pay to do so. I've joined in, sharing my personal story in the hope that, as David says, it might help those new to the scene manage their expectations, or help others dealing with similar things realise they aren't alone.
To read that post, just click here.
Two Great Reviews
Also, I have two reviews to share with you, which have me buzzing! Remember the two co-authored teen fiction books I launched last November to raise money for The Kids' Cancer Project? Well, Buzz Words Books has now reviewed them and they loved them. Yay!
A Dolphin for Naia
"When a book conjures multiple story questions and powerful themes that leave you yearning for the answers in the first few pages, you know that you are in for an absorbing read — which is exactly how A Dolphin for Naia starts… These questions create a flawless narrative tension that drive through the book like an unrelenting heartbeat." Read more of that review here. Buy A Dolphin for Naia here!
Scribbles in the Dark
"Scribbles in the Dark is not only a gripping, fantastical read that you'll not want to put down but it is rippled with many strong messages pertinent to young people and adults alike – dealing with loss and grief, belonging, family bonds and connectedness. The characters are rich with back stories that are cleverly woven through the story arc and the subplots make this novella even more gripping… Read it and enjoy the ride." Read more here. Buy Scribbles in the Dark here!
Wow – it's so wonderful when the stories you loved to write are read and enjoyed by others, to the point that they then take time out of their day to make sure the world knows about it. Thank you Buzz Words Books!!