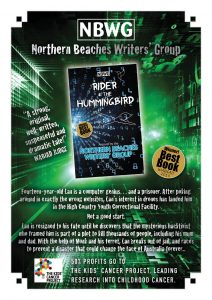 On Saturday afternoon a bunch of lovely young readers, friends, family and writers, including the bestselling children's author Belinda Murrell, came to Manly Library to support my continued fundraising for The Kids' Cancer Project, this time through the launch of my co-authored children's book Rider & the Hummingbird.
Rider & the Hummingbird is a 'middle grade' fiction novel, for 8-14 yr olds:
Fourteen-year-old Lan is a computer genius… and a prisoner. After poking around in exactly the wrong websites, Lan's interest in drones has landed him in the High Country Youth Correctional Facility.
Not a good start.
Lan is resigned to his fate until he discovers that the mysterious hacktivist who framed him is part of a plot to kill thousands of people, including his mum and dad. With the help of Monk and his ferret, Lan breaks out of jail, and races to prevent a disaster that could change the face of Australia forever…
Rider & the Hummingbird has been in production for almost a year now, so it was wonderful to finally get my hands on copies a few days before the launch.
I was so glad they arrived in time! Phew!
Ah, lovely books! Both my children were at the boxes straight away, clawing for a copy. I made them wait until launch day! I know there ought to be perks when Mummy's an author, but this book wasn't written by me alone. It was co-written by my wonderful NBWG author buddies Leah Boonthanom, Madi Duncan, Chris Lake, Tony McFadden, Kylie Pfeiffer, Kristin Prescott and of course myself; edited by myself and Zoya Nojin; and illustrated by Liz Michell and Mijmark. What a team effort! Thank you, guys, for creating with me once again! Happy bookday!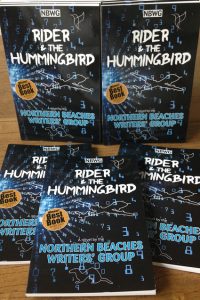 First things first, our lovely master of ceremonies Kris invited bestselling author Belinda Murrell to officially launch our book – thank you so much Belinda!!! You certainly got the crowd excited!
Then I asked everyone: what is family? It was a rhetorical question, but of course someone put up their hand to answer – my daughter Ophelia! You can just about see her hand on the far left of this photo:
Family, I said (after explaining what I meant by 'rhetorical question'), comes about through our blood and genes, our history and childhoods. But that kind of 'blood' family is not the only kind of family we have. Life brings us all many challenges, and our blood family might not always understand the difficulties we face. They have their own challenges to deal with of course, and sometimes, however much we might try to explain to them, reach out to them or try to include them in our lives, they simply cannot understand what we mean or need. In times such as those, we turn instead to a different kind of family – the family of circumstance. 
Classmates or workmates who click.
Friends who share our passions and interests.
People who can understand.
Today, I told everyone, I stand in a room full of family! Whether young or old, fan or writer, everyone was there because they knew that their presence would mean the world to us as writers and fundraisers, they understood both our passion and need for support while balancing work, health, art, family and children, and in our spare time… words.
Today, I said, our words bring you 14yr old Lan, who struggles to be understood by his own blood family. So he takes comfort in the family he finds through circumstance. As must we all, he learns to appreciate what support he can find when life doesn't go his way. And boy oh boy, does life not go his way!
To give them a taste, I then read a passage from Rider & the Hummingbird. This is from Chapter 4:
Lan ran – fast. There was a fifty metre clearing around the fences, separating the compound from the dark forest. He had to get into the trees before any searchlights swept past. His heart pounded as his legs pumped hard. It felt like a marathon. Any moment a light might pinpoint him, catch him like a startled rabbit.
But he made it to the tree line and ploughed into thick undergrowth. Between breaths he listened for any shouts or unusual sounds from behind. Only the low hum of a generator rumbled through the night. He glanced back. Monk was nowhere to be seen. He was on his own, and all he could see in the dark were towering eucalypts, their scraggly tops silhouetted against the stars.
What happens next? What is the 'family of circumstance' he finds? You'll have to read the book to find out!
I think I hid it well, but I was of course nervous giving my speech – the crowd by this time was snaking out the door!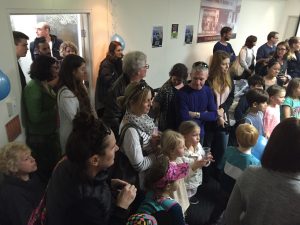 Next Robert from The Kids' Cancer Project spoke about the incredible work they're doing, researching childhood cancers. The idea that our fundraising might actually help save the life of a child with cancer warmed all our hearts…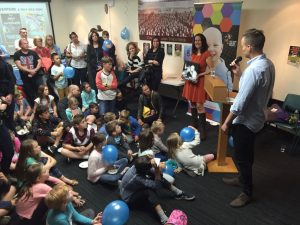 Lastly, we gave away two 'lucky door' prizes – artworks of illustrations from the book.
And that was it. All over! Thank you everyone!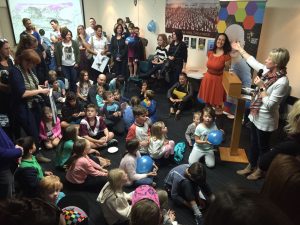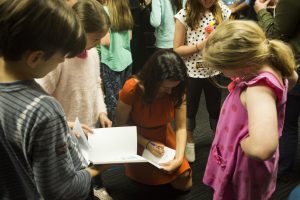 Slowly the crowds drifted away and all we had to do was clean up…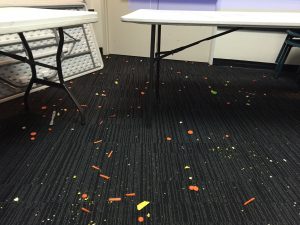 …then relax!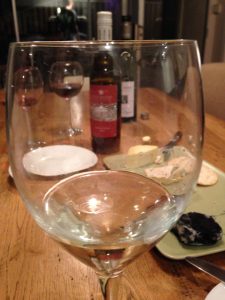 Rider & the Hummingbird can be bought in all your favourite online retailers:
Please support us and thereby the very worthwhile Kids' Cancer Project by buying a copy to read, or as a gift!
Alternatively, you can sponsor our group, the Northern Beaches Writers' Group, in this year's WABIAD challenge here.