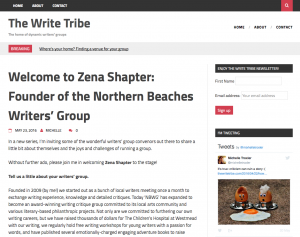 Today I'm over at The Write Tribe, 'the home of dynamic writers' groups', talking about the Northern Beaches Writers' Group – why I started the group, how it's supported my own writing (and sometimes hasn't!), challenges, changes and advice for anyone wanting to start their own group. It's a brief behind-the-scenes tour of an important side of my writing life, and I hope you'll enjoy the read 🙂
Thank you to the lovely Michelle Troxler for getting in touch and asking me such fab questions as:
What is the best thing about running a group? 
What were some of the challenges of starting the group?
Are there any ongoing challenges in managing the group? 
How is the group structured? What happens prior to meetings/at the meeting/after the meeting? 
To read my answers, please just click here!