Because I'm incredibly lucky to be a mother of two wonderful healthy children…
Because giving sick kids a story to read and spending the next few months raising money for them is definitely something I can do…
Because my writers' group wanted to do the same…
The Northern Beaches Writers' Group is attempting the 2014 Write-a-Book-in-a-Day challenge!!
The challenge, otherwise known as WABIAD, is a national challenge designed to raise money for the children's hospitals in each state. Based in Manly, our focus is The Kids' Cancer Project at Westmead Children's Hospital, a project and hospital close to many of our hearts. Would you like to help us help them? You can sponsor our attempt no matter where in the world you are. Simply go to the official Write-a-Book-in-a-Day website, then follow: Sponsor a Team, Find a Team, click on the blue dot that represents New South Wales on Australia's East Coast, then you'll find us listed alphabetically. Select our team 'Northern Beaches Writers' Group' and decide how much you want to give.
Last year, we actually did quite well in the challenge – raising the Most Sponsorship nationally, and winning Best Book and Best Illustrations (you can read more about our book Scribbles in the Dark here). Woo hoo!
Even so, please wish us luck – we're going to need it. We'll know nothing about the book we have to write in advance. We get given a random setting, 2 humans, 1 non-human, 1 issue and 5 random words on the day itself, and the book has to be written, illustrated, printed and bound before 8pm that night.
Wow – will we do it??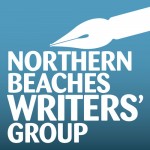 Thanks Leah Boonthanom, Zoya Nojin, Kristin Prescott, Kirsten Taylor, Mijmark, Chris Lake and Kylie Pfeiffer for joining me on this crazy challenge.