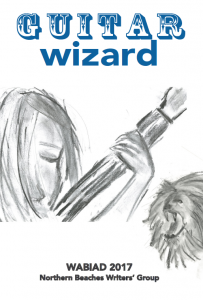 For the last five years, I've wrangled a team of writers from the pool of awesome talent that is the Northern Beaches Writers' Group to compete in the annual Write-a-Book-in-a-Day challenge and raise money for The Kids' Cancer Project. This year was as much of a challenge as ever, but fun too. We were given the following parameters at 8am on Saturday and had to plan, write, illustrate, print and bind an entire book before 8pm that night:
Primary Character 1: Bricklayer
Primary Character 2: Lion Tamer
Non-Human Character: Wizard
Setting: Rock Concert
Issue: An Unwanted Gift
It was hard work non-stop for twelve solid hours – a writing marathon! Why did we do it? To convince people like you to donate to the worthy cause that is The Kids' Cancer Project, to fund cancer research and equipment. There's still time to donate a few dollars too, anything you can spare. Donations are tax deductible! Donate to our team via this link, so we can reach our sponsorship target!
Here's the blurb of our resulting book, 'Guitar Wizard':
Thirteen-year-old Emerald O'Shea and her mother, Catherine, make a fun living wrangling their mostly tame lion, Nasla. But when Nasla steals the spotlight for an ageing rock star's final show, Emerald's true calling is discovered. If she doesn't accept the unwanted gift and leave her comfort zone, the soul of music, and humanity, will disappear.
I'm so proud of the writers who spent the day writing with me and creating this book – thank you Emily Antonio, Leah Boonthanom, Bronwen Bowden, Jacqui Brown, Rodney Jensen, Chris Lake, Tony McFadden, Kylie Pfeiffer and Sonia Zadro. I'm in awe of your generosity of spirit, commitment and patience. Thank you for letting me guide your creativity and edit your words. You rock! Here are some photos from the day:
A long but very worthwhile day. Want to help out too? Every child deserves a future – the fight against childhood cancer is about ensuring they get one! Here's that link again, I'll just leave it here: www.writeabookinaday.com/teams/nbwg
Save