Dear supporter of all things bookish and speculative,
I'm thrilled to invite you to the book launches of my solo debut Towards White – one in Canberra and one in Sydney. I'd love to see some friendly faces there, so please consider joining me, and my publisher IFWG Australia, for a glass of wine to celebrate!
CANBERRA: 2.30pm Saturday 30th September – to be launched by Aurealis Award-winning author Leife Shallcross!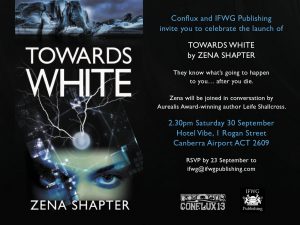 SYDNEY: 6.30pm Thursday 12th October – to be launched by multi-award-winning author Joanne Anderton!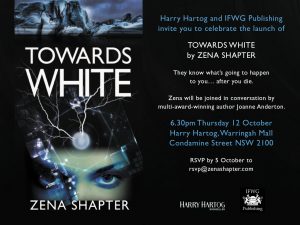 Scientists think they've figured out one of our greatest mysteries – where the electrical energy in our brains goes after we die. According to the laws of physics, one form of energy must always become another form. So the electrical energy in our brains can't simply disappear…
To find out more, please come along to a book launch!
"Suspense that takes you to the brink, then pushes you over." Kim Falconer, author of 'The Blood in the Beginning', an Ava Sykes Novel
"Profound implications for humanity." Pamela Freeman, author of 'The Castings Trilogy'
"A complex and driven female lead." Joanne Anderton, award-winning author of 'Debris' and 'The Bone Chime Song and Other Stories'
"A slick technothriller." David McDonald, author of 'Guardians of the Galaxy: Castaways' and 'Captain America: Sub Rosa'
"A deliberate unfolding of the layers of truth." Leife Shallcross, author of 'The Beast's Heart'
What amazing book quotes! I'm so grateful that these incredible authors spared the time to read my novel – we're all such busy people! In fact, I wanted to know how they managed to find that time so asked them. Over the next couple of weeks, I'll be posting their answers here – what else *were* they doing while reading and quoting on the advanced reading copy of Towards White?
Save