Hooray, readers are talking about Towards White – every author's dream come true!
Book Pics
Thank you to these amazing readers who have sent me pics of them reading Towards White – I love these!!! Send me more!!
Reviews
Readers have also been kind enough to review Towards White to let others know it's a good book – they've been shouting out on review blogs, Amazon, Goodreads and Twitter. So far so good…
I've started a #conflux13 book. Towards White by @ZenaShapter . A very gripping opening and delicious writing.

— Donna Maree Hanson (@DonnaMHanson) October 16, 2017
Hey @ZenaShapter I inhaled your book. I loved it and couldn't put it down

— Donna Maree Hanson (@DonnaMHanson) October 18, 2017
It really is very good. You should be proud and it's beautifully written too

— Donna Maree Hanson (@DonnaMHanson) October 18, 2017
Interviews
This week, three amazing blogs even went a step further and interviewed me about Towards White.
Supernatural Underground wanted to know all about Iceland, Becky Dales, the science and the philosophy woven into Towards White, research, complicated relationships and my typical writing routine. Read that interview here.
Australian Women Writers also invited me to be a guest on their Sunday Spotlight. They wanted to know when I started writing and what was the catalyst, what inspired Towards White, who's at the heart of the story, how I incorporate research into my stories, how I stay sane as a writer, and what sort of paranormal I would be if I could choose. Read that interview here.

Then Simon Dillon asked me questions about inspiration, personal experiences, the afterlife, the legal profession, technology, human corruption, the publication process, the best and worst parts of being a writer, genre promiscuity, writing 'what you know', social media and writing advice. Read that interview here.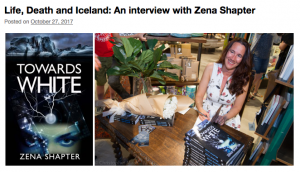 Autographs
I've also been keeping in touch with fans – it's so much fun to send and receive mail! I've sent out bookmarks, autographed copies and emails of course.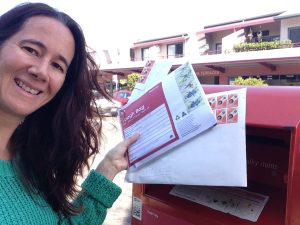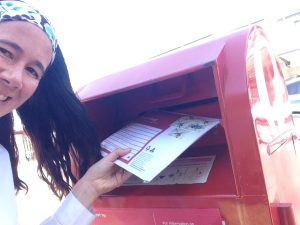 My nearest postbox is just around the corner, so please let me know if you'd like me to send you something: an autographed copy, bookmark, or autographed book label to stick on the inside of your book. Books themselves (not autographed) are available through my publisher IFWG, and their distributor.
Of course if you can do anything to help readers find Towards White please do so – word of mouth is still one of the most powerful ways authors get their books 'out there'. And I'm loving book pics! Post them online and tag me!
Thank you for all your support so far!
Save
Save
Save
Save
Save
Save
Save
Save
Save