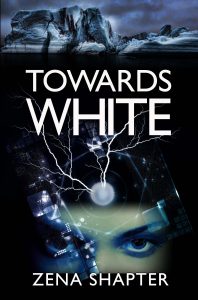 The generosity of some writers astounds me. Five amazing writers just read my upcoming solo debut Towards White, and gave my publisher IFWG Australia five amazing quotes about it, all while juggling their own projects, writing and family. I had to know more. So today I'm asking Kim Falconer, what else were you doing while reading and quoting on the Towards White ARC? Firstly, here's what she said about Towards White:
"Zena Shapter's debut novel will hold you tight from start to finish. With characters as convoluted as the faultless plot, 'Towards White' expands the mind, and the mind's eye, as you track the journey of life, death, love and deception. Suspense that takes you to the brink, then pushes you over. The world building was perfection. Highly recommended!" Kim Falconer, author of 'The Blood in the Beginning', an Ava Sykes Novel
So, Kim, what were you up to?
1. What were you writing?
I've been working for the last eighteen months on a YA Fantasy/Horror novel called Cloud Forest. The premise is everything happens twice. It's about a fifteen-year-old girl who survives a car accident but doesn't wake up. While comatose, her spirit roams the shaded world between life and death. In a parallel storyline, the accident never happens. She goes on an archaeological dig with her Year 10 Earth Science class. Think old gods, shamans, curses, human sacrifice and spirit animals. When these girls meet, their worlds collide… My goal is to finish a strong draft before the end of the year.
2. What were you editing?
The Amassia series, three books coming out in 2018-2019 through Entangled Teen. It's a Young Adult Fantasy seen through the eyes of Marcus, the Heir struggling to control his phantom, Ash, his childhood friend who has given up on ever raising one, and Nalin, the beguiling Mar sent to assassinate them both. Thrown off course on their way to Aku, Ash and Marcus cross enemy lands and a dark sea, home of the Mar, a beautiful but deadly race said to feed on infant sacrifices. Nalin, posing as the bosun's mate, guides them true, but their path triggers a catastrophic prophesy. In a world on the brink of the next Great Dying, no amount of training can prepare them for what is to come… Watch for it on www.akwilder.com
3. What were you busy promoting?
My latest release is an Urban Fantasy, The Blood in the Beginning – an Ava Sykes Novel, out through Harlequin Books. Undergraduate by day, bouncer by night, Ava Sykes works hard to build her life in New LA, a city experiencing the Aftermath of a seismic disaster. Her prospects improve until she stumbles upon an evil no sane person would want to confront. Suddenly, her life, her city and everyone she cares about is in danger. Pushed to the edge, Ava taps a power she never knew she had… and uses it. Find more on avasykes.com.
Thank you, Kim! I'm so chuffed you enjoyed Towards White!
Want to come to one of my book launches for Towards White? There will be two – see below! You can also pre-order Towards White here.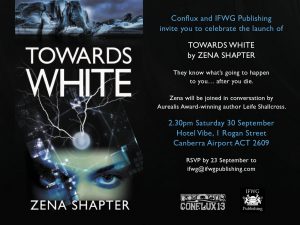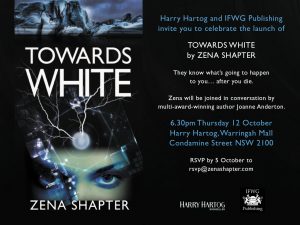 Save
Save