Today is the day, and I'm absolutely petrified/ so excited that 'Towards White' is finally released into the world!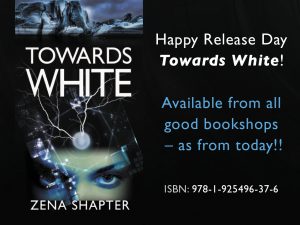 Readers might find/ There are so many reasons to read this book!
Science Fiction
It's got a big idea at its heart that attempts to/ finally answers the oldest question of them all – what happens when we die? Oodles of research have gone into this, over years and years. Here's part of the blurb:
Scientists in Iceland think they've figured out one of our greatest mysteries – where the electrical energy in our brains goes after we die. According to the laws of physics, one form of energy must always become another form. So the electrical energy in our brains and nervous system can't simply disappear…
Thriller
I've been told it's/ It's also a page-turner. Here's the rest of that blurb:
When ex-lawyer Becky Dales travels to Iceland to track down her missing brother, she doesn't care about the groundbreaking discoveries, or the positive-thinking practiced by the Icelanders – she just wants her brother back. Having stumbled on something she thinks the Icelandic government wants covered up, Becky must piece together the answers fast… before she becomes a victim herself.
Complex & Driven Female Lead
But it's not as simple as that – Becky Dales is her own hero as well as her worst enemy. I just hope/ know readers are going to identify with her story. We all fall apart sometimes, face the darkest of dark hours, question the essence of our being, then seek a way back to 'normal' life. This is a story about a character struggling to do that, and facing a crisis at the same time. Sometimes when it rains, it pours!
Philosophical
As well as unravelling the mysteries of life and death, 'Towards White' poses questions about science, religion and justice that should/ will get you thinking!
Iceland
There's something magical about Iceland. Nothing can prepare you for the stark beauty of its geography – its lonely lava plains, steamy natural springs, volcanoes, glaciers, geysers, waterfalls and auroras. I haven't stopped wanting to return since travelling there in 2001. Hopefully/ 'Towards White' will take you back there with me!
Launches
CANBERRA: Saturday 30th September (tomorrow!) 2.30pm at Conflux, Hotel Vibe Canberra ACT 2609. I'll also be appearing at Conflux over the next few days as follows:
Friday 29th, 4pm: appearing on 'Self publishing – doing it properly' panel.
Saturday 30th, 10am: appearing on 'Youngest sons & daughters: youth characters in fairy tales' panel.
Saturday 30th, 2.30pm: BOOK LAUNCH!! Please join me to celebrate the launch of 'Towards White'.
Saturday 30th, 4-6pm: teaching my writing workshop Vividness & Voice
Sunday 1st, 11am: moderating 'starting writing later in life' panel.
Monday 2nd, 10am: appearing on 'WTF is crossover anyway?' panel.
Monday 2nd, 1.30pm: appearing on 'Writing across cultures with out @#!!*&ing it up' panel.
SYDNEY: Thursday 12th October at Harry Hartog, Warringah Mall Brookvale NSW 2100
BUY NOW: Buy one for a friend too! Then you can talk about it without having to wait for them to finish reading! Just follow this link.
Save