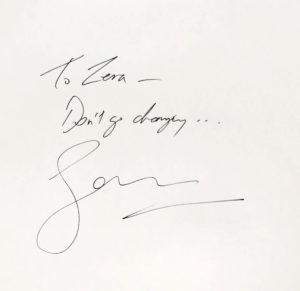 What kind of books does Sean Williams write?
Science fiction and fantasy for readers of all ages.
Tell me more!
Sean Williams is an award-winning, #1 New York Times-bestselling author of over forty novels and one hundred stories, including some set in the Star Wars universe and some written with Garth Nix. He lives in Adelaide, South Australia, with his family and a pet plastic fish. His latest series is Twinmaker, beginning with Jump, available from Allen & Unwin.
Where can I find out even more about this fabulous author?
What does his handwriting reveal?
Compare his swirls and slants to the letters and revelations here, then scroll to check out your next author!