Well, hello 2018, and what a wonderful way to start the year: an interview on The Book Podcast and giving an author talk!
The Book Podcast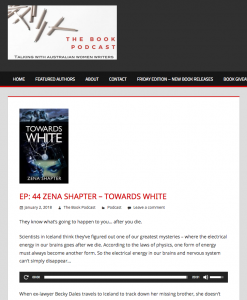 The Book Podcast aims to celebrate Australian women's writing and champion cultural change. In each episode, interviewer-extraordinaire Rosemary Puddy talks to an Australian woman writer about their books, helping to expand their reach and readers' reading. In her words:
"We have a wealth of talented women writers in Australia and I will be talking to fiction and non-fiction writers from all genres. Some writers may be well know to you, others may not. I hope you discover new books or are inspired to re-visit old favourites."
I highly recommend subscribing to her blog and listening to multiple episodes, as Rosemary is a great interviewer – she asked me some really tricky questions!
To listen to her interviewing me, please just click here.
Thank you so much Rosemary for including me!
Author Talk
Thank you also to the Narrabeen Booklovers' Club for including me in your schedule of author talks for 2018. It was an absolute delight to introduce you to my solo debut Towards White and share my writing journey with you. Such great questions from the audience afterwards too! I'm thrilled so many of you were interested in (and bought!) my book, now on its second print run!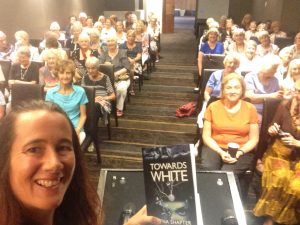 Anyone Else?
If you're interested in having someone speak to your group, club, school, college, centre, colleagues, podcast, readers or listeners – please don't hesitate to get in touch! I love talking about all things story, why we write and tell stories, how my own writing fits into that, how I became a writer, and everything I know about books and the art of creating them. All you have to do is get in touch!
In the meantime, don't forget to listen to that interview here.