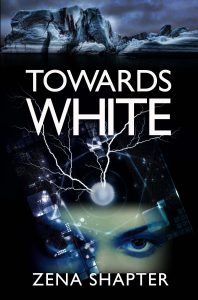 Towards White
ISBN: 9781925496376
They know what's going to happen to you… after you die.
Scientists in Iceland think they've figured out one of our greatest mysteries – where the electrical energy in our brains goes after we die. According to the laws of physics, one form of energy must always become another form. So the electrical energy in our brains and nervous system can't simply disappear…
When ex-lawyer Becky Dales travels to Iceland to track down her missing brother, she doesn't care about the groundbreaking discoveries, or the positive-thinking practiced by the Icelanders – she just wants her brother back. Having stumbled on something she thinks the Icelandic government wants covered up, Becky must piece together the answers fast… before she becomes a victim herself.
"Profound implications for humanity."
"A slick technothriller."
"Suspense that takes you to the brink, then pushes you over."
"A deliberate unfolding of the layers of truth."
"A complex and driven female lead."
Buy Now!
PRINT (Australia): ABBEYS | FISHPOND | NILE | QBD | BOOKTOPIA | DISTRIBUTOR (DENNIS JONES)
EBOOK (Australia): AMAZON AU | KOBO | ITUNES
PRINT (UK): AMAZON UK
EBOOK (UK): AMAZON UK | KOBO | ITUNES
PRINT (US): to come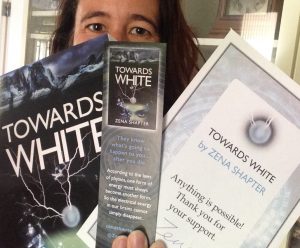 Please contact me if:
you'd like an autographed copy – $35 anywhere in Australia (including book + postage + bookmark); overseas by enquiry
you'd like a FREE bookmark
you'd like a FREE signed book insert
the above links don't work – books may be under transition via the distributor
Resources
Towards White is a great choice for book clubs.
You're welcome to use these free resources to generate discussion, though please bear in mind they contain spoilers: –
Discussion Questions
An introduction to Mark's thesis written by Becky Dales
A musical journey through character – Becky Dales at the novel's start, through the story, to its end.
If you'd like advice regarding eating disorders, please contact your local eating disorder helpline such as those in: Australia, United Kingdom, USA.
If you're interested in visiting Iceland, please go here first.
What they're saying…
"'Towards White' is a smart supernatural thriller, with a central mystery that is both heartbreaking and intriguing. Shapter blurs the line between technology and spirituality, all the while exploring a fascinating Icelandic setting through the eyes of a complex and driven female lead. It's a novel that delves deep into the nature of justice, religion and death, but at it's heart it's a story about family and the bonds that connect us all." Joanne Anderton, award-winning author of 'Debris' and 'The Bone Chime Song and Other Stories'
"Zena Shapter's debut novel 'Towards White' is that rarest of books—an easy read that tackles hard subjects. Combining the ominous vibes of The Stepford Wives" with the science driven action of "The Andromeda Strain", this slick technothriller will keep you turning the pages long past when you should have gone to bed. 'Towards White' shows the conflict and chaos of a meeting between the unstoppable force of scientific progress and the immovable object that is human nature—and what happens to those caught in the middle." David McDonald, author of 'Guardians of the Galaxy: Castaways' and 'Captain America: Sub Rosa'
"Eerie and engrossing, 'Towards White' is an interrogation of the mystery of life wrapped in a Nordic sci-fi noir story about unravelling the mystery of a death. Set against a starkly beautiful landscape, the story is steeped in a deep sense of unease, alternating between white-knuckle action and a delibrate unfolding of the layers of truth." Leife Shallcross, author of 'The Beast's Heart'
"Zena Shapter's debut novel will hold you tight from start to finish. With characters as convoluted as the faultless plot, 'Towards White' expands the mind, and the mind's eye, as you track the journey of life, death, love and deception. Suspense that takes you to the brink, then pushes you over. The world building was perfection. Highly recommended!" Kim Falconer, author of 'The Blood in the Beginning', an Ava Sykes Novel
"If you like your science fiction intelligent, pacy and thought-provoking, 'Towards White' is for you. Great philosophical science fiction in a noir thriller package. Crime and a challenging new technology with profound implications for humanity – I thoroughly enjoyed this SF thriller." Pamela Freeman, author of 'The Castings Trilogy'
"The concept of the mind and where it goes after the death of the host has fascinated theorists and theologians for millennia. 'Towards White' approaches this from a unique viewpoint and takes our preconceptions on life, death, and justice and turns them upside-down. Zena has created a wonderfully crafted novel that is gripping and disturbing." Stephen McCracken, IFWG Publishing
"The writing was lyrical and fast paced, I found this to be a great read from Zena. I wish I had written this book." Donna Maree Hanson, author of 'The Dragon Wine series'
Save
Save
Save
Save
Save
Save
Save
Save
Save
Save
Save
Save