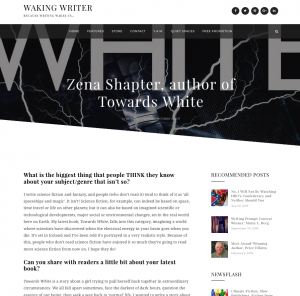 Today I'm over on the Waking Writer blog talking to Bernera L. Haynes about Towards White. Here's the start of the interview:
What is the biggest thing that people THINK they know about your subject/genre that isn't so?
I write science fiction and fantasy, and people (who don't read it) tend to think of it as 'all spaceships and magic'. It isn't! Science fiction, for example, can indeed be based on space, time travel or life on other planets; but it can also be based on imagined scientific or technological developments, major social or environmental changes, set in the real world here on Earth. My latest book, Towards White, falls into this category, imagining a world where scientists have discovered when the electrical energy in your brain goes when you die. It's set in Iceland and I've been told it's portrayed in a very realistic style. Because of this, people who don't read science fiction have enjoyed it so much they're going to read more science fiction from now on. I hope they do!
Other questions answered include:
Can you share with readers a little bit about your latest book?
What made you decide to sit down and actually start writing this book?
Tell us more about your main character. What makes him or her unique?
What was the hardest thing about writing your latest book?
What did you enjoy most about writing this book?
What role does research play in your writing?
What advice would you give to aspiring authors?
What is your next project?
Want to read more? The rest of the interview is over here.