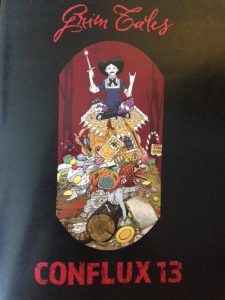 Every time I attend Conflux, Canberra's annual speculative fiction convention, it's different. The uniting theme is of course different and exciting (this year it was 'Grimm Tales'), as are the guests of honour (this year we had Ellen Datlow, Angela Slatter, Meri Amber and as MC Kaaron Warren – all spec fic mega stars!), and since I don't go every year, time passes and I am different. But this long weekend's convention went a step further because it was different every day. People came and went, bringing their own flavour to proceedings, and my schedule brought me different delights and challenges.
Friday – Road Trip, Arrival, Publishing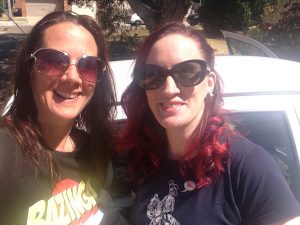 Friday was all about travelling down to Canberra, then recovering. I hitched a ride with my awesome editor buddy Abigail Nathan from Bothersome Words and the hours flew by – though I reckon something strange happens to your body when zooming forward on a highway for hours, you're sat down but somehow it's tiring (perhaps we need some white travel goo like in The Expanse?).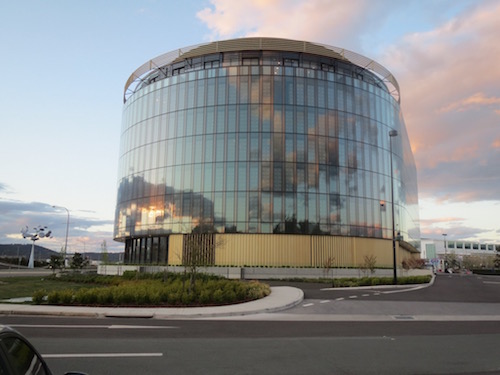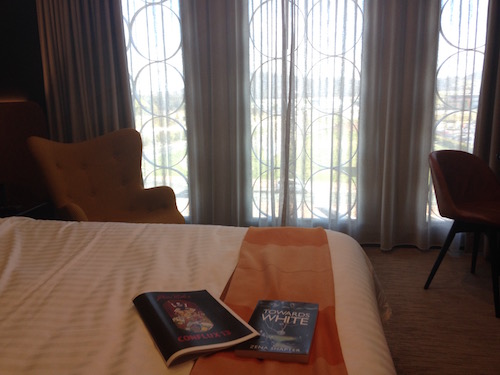 Luckily a fresh Caesar salad helped us recover, just in time for our first panel of the con…
'Self-Publishing, doing it properly'
I run a creative support business that helps writers (of fiction or non-fiction, biography or commercial project) release their words into the world, including book layouts and self-publication assistance. I also teach a course called 'How to Self-Publish a Book', and for the last five years have assisted the Northern Beaches Writers' Group publish books for 10-14 year olds to raise money for The Kids' Cancer Project. So, along with my fellow panellists, I imparted what wisdom I could to those interested in the indie side of things. We explained how it can be an incredibly rewarding experience, but that you also need to be prepared to market your work and learn how to use online tools for promotion.
The opening ceremony was next, where attendees were introduced to the theme of the con, Grimm Tales, with a game – Kaaron Warren read out the opening line of a fairytale, gave the audience two choices, then everyone had to guess which story the line opened. Guess after guess, a prize was awarded to the person who got every guess correct.
Dinner and drinks in the bar followed – one of my favourite parts of going to Conflux: catching up with All The People!
Saturday – Fairytales, Towards White, Writing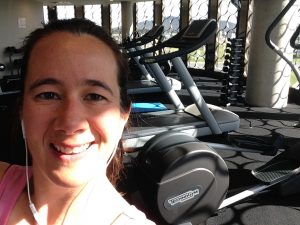 The nerves kicked in pretty early on Saturday, as IFWG was to launch my solo debut Towards White at 2.30pm.
A quick visit to the gym helped, then I had a panel…
'Youngest sons and daughters: youth characters in fairytales'
Preparing for this panel, I realised I knew a lot more about fairytales than I thought! Since I also write for children and have children myself, I could understand why a considerable number of fairytales follow the adventures of the youngest son or daughter in a family – they're the only ones not responsible for a younger sibling, and so can take the risks fairytale storytellers needed them to take in order to explore a theme or go on an entertaining adventure. As a parent, I also like my children to learn the lessons fairytales teach as early as possible, and young protagonists can engage young readers. We also talked about our favourite fairytales and how the telling of them is inevitably changing given our modern sensibilities and storytelling requirements. We all agreed 'Into the Woods' was a fantastic mash-up of fairytales.
Book Launch
After lunch it was time to get ready for my launch. I helped my publishers set up the books, bookmarks and massive banner. Hotel staff arrived with champagne for everybody.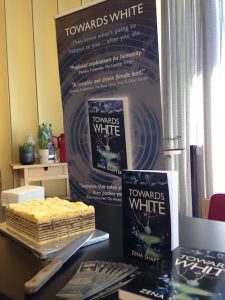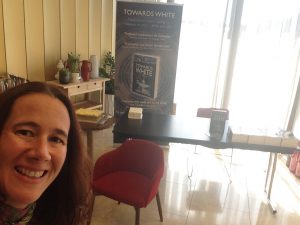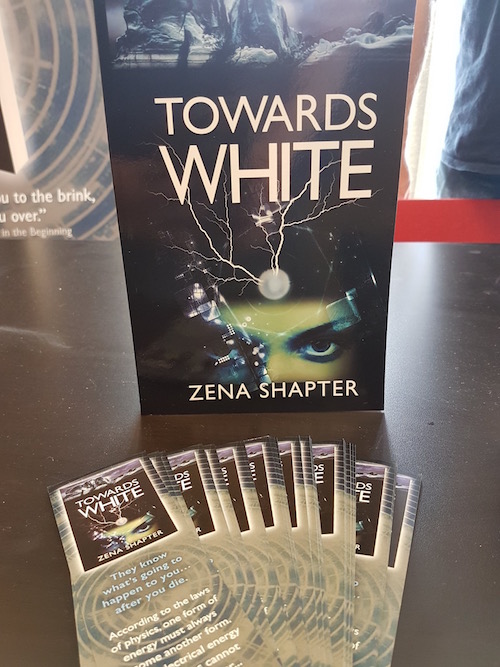 Fellow authors Leife Shallcross and Rob Porteous helped too – Leife prepared a list of revealing questions to ask me and Rob baked an Icelandic Celebration Cake. Here's Rob talking about the cake (gosh, I sound so Aussie in the intro!):
After Stephen McCracken of IFWG introduced me, I read aloud a section, then Leife interviewed me, then we all had champagne and cake and I signed books.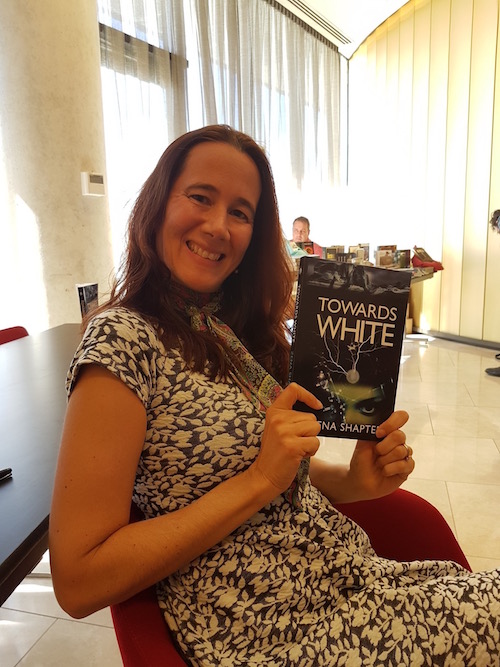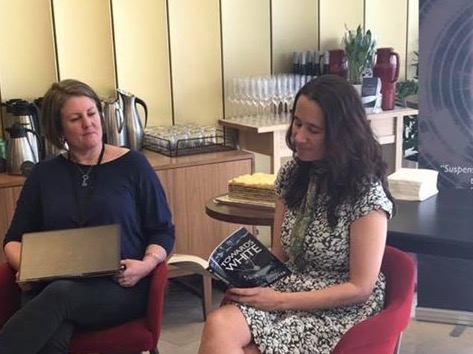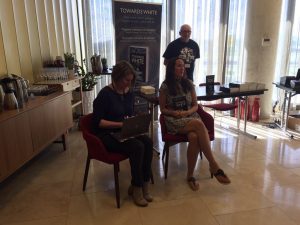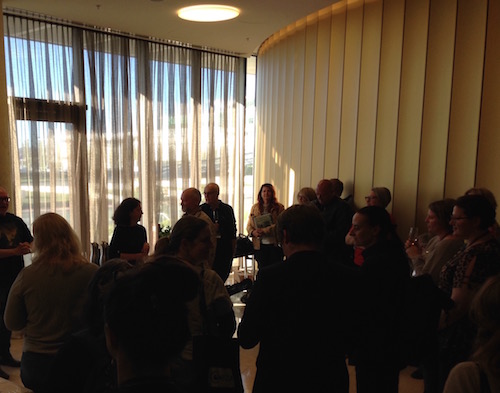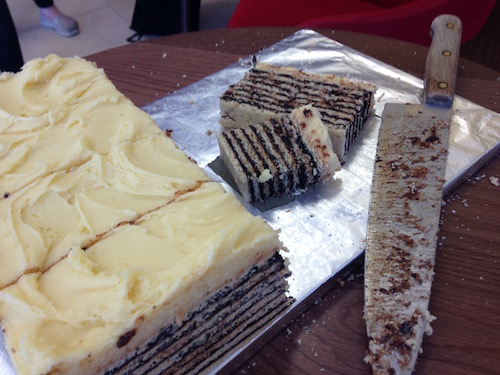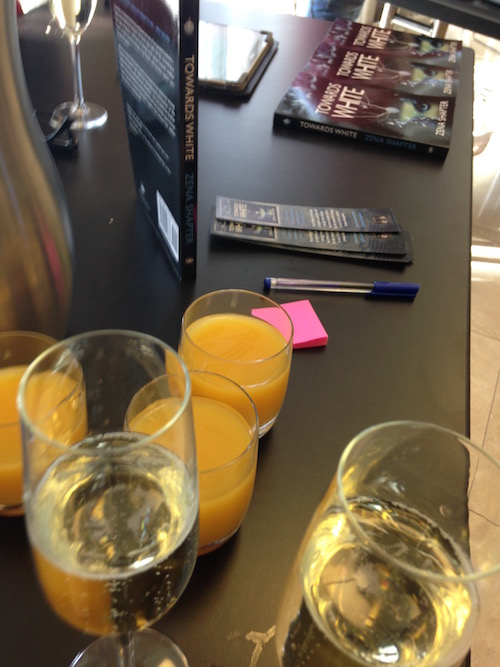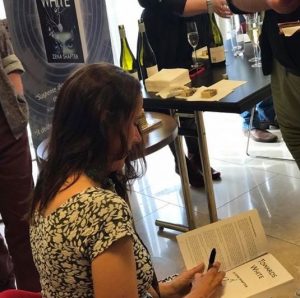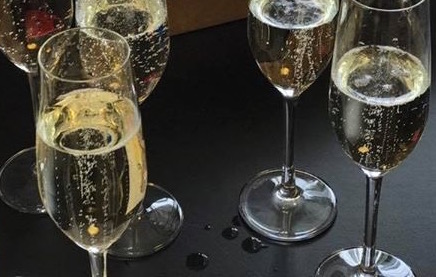 Book launches are definitely one of the highlights of an author's career and I'm so very grateful to everyone who came along to support me – we sold every book bar three!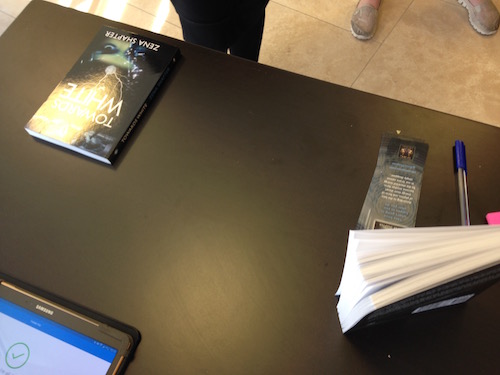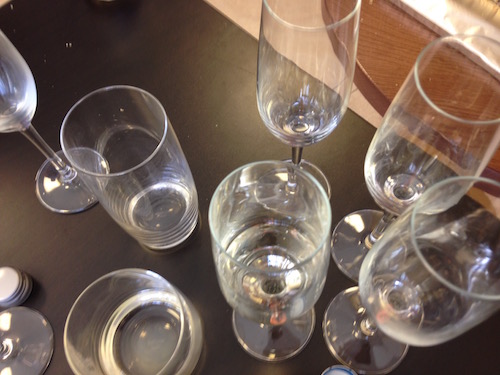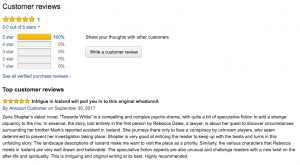 I'm still incredibly nervous about how the book will be received by readers, but a five-star review on Amazon this week has eased some fears. If you bought a copy and enjoyed the read, please consider posting a review too! It really helps with all the algorithms and bots, and reassures future readers that they're in for a good ride. The same goes for any other book you've read and enjoyed – it helps authors so much.
Haven't bought a copy yet but want one? Click here for links to buy. Also let me know if you want a signed copy, as that can be arranged!
Thank you IFWG Gerry Huntsman, Stephen McCracken and Rebecca Fraser for bringing Towards White to life. Thank you also to my husband Bill, son Brandan and daughter Ophelia for your patience. Also, thank you to my parents – my dad had to leave school at 12 to work in a fish 'n' chip shop to support his family, my mum had to leave at 14 to work in a hairdressers. So they had no idea what to do with a book nerd when I was born. If Dad were still alive, he'd be so proud. Mum, I know you are – why else would you have driven me from library to library during my teens, just to pick up a book?!
Workshop: 'Vividness & Voice'
Next up I ran my two-hour writing workshop, Vividness & Voice. It's designed to test writing styles, explore scene manipulation and develop voice. It was packed out, with people sitting on the floor or perching on side tables to join in. Thank you everyone for coming!
Finally, it was time to retire to the bar again, for dinner and drinks. Yay!
Sunday – Starting out, Science, Hanging out
Sunday was a slightly later start, with my first panel at 11am, so I had time for another quick gym visit to keep all my adrenalin under control – cons are so exciting! Given my 2am bedtime the night before, however, I didn't manage much!
Starting Writing Later in Life
I was the moderator for this panel, and got to interview Karen and Sherylyn Dunstall and Laura Goodin about the advantages and disadvantages of starting a writing career later in life. Although I started writing when I was eight, I didn't write my first novel until I was 26, and it was then fifteen years before my co-authored novel Into Tordon was published last year and my solo debut Towards White was published this weekend (yay!), so I understand how long the novel-writing process can take (longer when you're raising young children!). The panel agreed it was a minimum of ten years from starting writing to first major successes, and these facts made some audience members nervous. The following list of late-publishing authors reassured them:
Bram Stoker 'Dracula' – 50yrs old
Daniel Defoe 'Robinson Crusoe' – 60yrs old
Mark Twain 'Huckleberry Finn' – 49yrs old
Anthony Burgess 'A Clockwork Orange' – 45yrs old
Laura Ingalls Wilder 'Little House in the Big Woods – 64yrs old
George Eliot (Mary Anne Evans) 'Middlemarch' – 55yrs old
Frank McCourt 'Angela's Ashes' – 66yrs old
'Putting Science in Stories'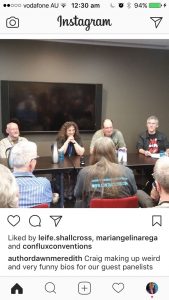 Best Icelandic Cake Maker Rob Porteous was on a panel after lunch, so I went to listen to the discussion, about science in stories. The panelists decided that there was a distinction between silly science and high science in stories, with silly science mistakes irritating them more than high science mistakes. A silly science example would be jumping out of a plane, taking off your jacket, and holding it above you to slow your descent enough to survive – it simply couldn't happen. More forgivable, however, was getting high science wrong such as dark matter and teleportation possibilities as readers might not notice. Of course, all mistakes should ideally be avoided, and Quora is a great place for writers to start their research – though of course you need to consult multiple sources when researching science. Misrepresented science can warp our understanding of the world, they said, in the same way that airbrushed models in magazines warp our understanding of what women really look like. Finally, the panelists asked writers not to stereotype scientists in their stories – ensure they are as well-drawn as any other character and representative of diversity.
Hangout
The rest of Sunday afternoon was all about socialising and networking, and the hotel foyer was the perfect place to sit back and enjoy the company of old and new friends. It went too fast.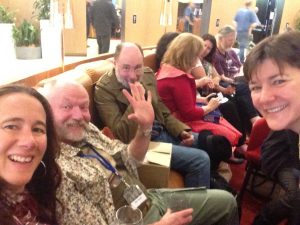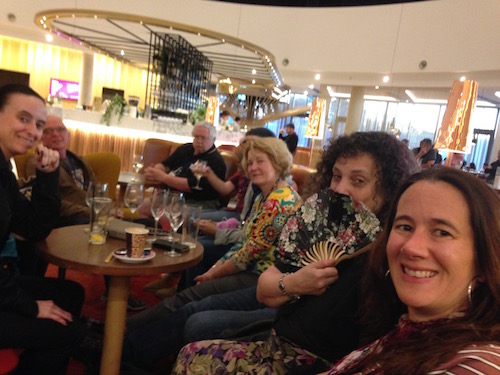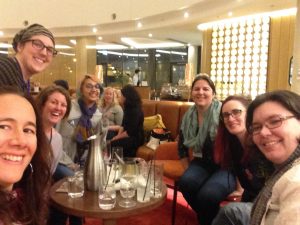 Monday – Cross-genre, Culture, Trains
My first panel of the day was at 10am. No morning gym today – my tummy got enough crunches giggling with the girls last night in the bar!
'WTF is crossover anyway?'
The panel and I talked about the difficulties of writing cross-genre stories – mostly trying to sell them to publishers. Stickers and stocktaking were the problem. Libraries put a single sticker on each book's spine so they can be shelved and easily found. Bookshops need a single category for stock-taking purposes. For this reason, publishers tend to play it safe with books that clearly 'fit in a box'. Exceptions seem to be when a publisher wants to expand their list to offer readers something different. No one on the panel, however, wrote cross-genre intentionally, prioritising the telling of a certain story or character above that story's eventual classification. So while it can help writers to consider the primary genre of their story and ensure they meet readers' expectations for that genre, such forethought rarely happens in practice. Luckily online book retailers, and even some publishers, now recommend other books in 'people also read' sections, which can help readers find cross-genre stories they might not find solely searching by category. A final thought from the panel was that really cross-genre referred to 'original' stories, stories that don't fit existing molds and push the boundaries of fiction. Without authors doing this, new genres of literature (such as YA) wouldn't exist. The world of literature needs us!
Writing across cultures without #!!*#ing it up
My final panel for the con was a discussion on culture. I was so excited to be presenting on this topic following the Writing Inclusive Fiction course I studied earlier this year, and my lifelong passion for inclusivity. I can't wait until we can talk more about valuing intersectional diversity itself (people are not just an ethnicity or religion but a class, gender, level of ability and sexuality as well, and each of those comes with its own set of privileges and assumptions), rather than the representation of one or two minority cultures, but this was a great start and a very useful discussion for the audience. We encouraged the audience to first examine where they come from and what assumptions they might consequently make about others before creating or writing about a culture. If writing about a real world culture, the panel agreed research and connection was paramount – using multiple resources to immerse yourself in that culture, talking to as many people as possible, including those known personally to you, experts, elders, librarians and organisations dedicated to representing that culture. If creating a culture from scratch, we agreed writers should be aware of their background and assumptions when applying worldbuilding tools, then focus on what makes their created culture unique and fully realising that uniqueness from the ground up, ensuring it seeps into everything from clothes and art to politics, food and washing up! Finally, check your characters for stereotyping and don't be afraid of trying for fear of making mistakes – we all make mistakes.
Home time!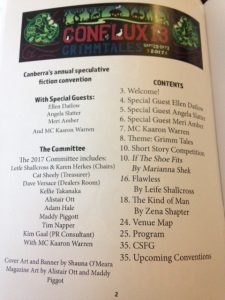 After a final closing ceremony where I got a prize for my short story, The Kind of Man, published in the Conflux 13 brochure, it was time to head home. Thank you to Ellen Datlow, Kaaron Warren and Rob Porteous for blind-judging my story worthy of both publication and a prize. Thank you Leife Shallcross and Karen Herkes for organising an amazing four-day program of speculative fiction events. Thank you to everyone who bought Towards White and made me feel like a superstar by tracking me down throughout the convention and asking for my autograph.
Thank you to Dion Perry for giving me a lift to Goulburn so I could catch the fast train back to Sydney, and start writing up this recount.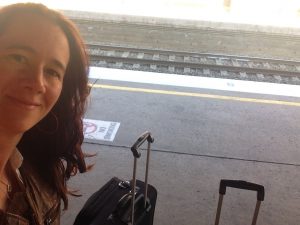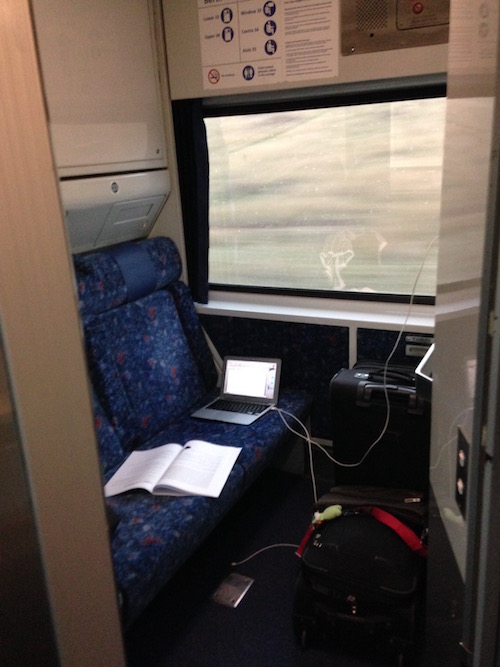 Finally thank you to my family, who picked me up from Sydney's Central Station and gave me lots of big hugs.
Big hugs to you too, online buddies, for spending your time reading this recount!