Zena has been inspiring writers and teaching them about their craft since 1991, when she started a weekly writers' group for creative teenagers. With a BA(Hons) in English Literature and years studying creative writing at university, she now leads a monthly writers' group (the Northern Beaches Writers' Group), guiding members in the completion of their various individual writing projects. Zena has worked within the Australian publishing industry for over 14 years – as a freelance editor, copywriter, ghostwriter, book creator, layout designer, writing judge, tutor, mentor, and author – and loves sharing what she's learnt with readers, aspiring writers, fans of any age, and school kids seeking to extend themselves.
Years ago, when Zena used to be a solicitor, she wrote and presented seminars to groups of 100+ lawyers about how to write in plain English… so she knows how to stimulate a crowd!
Whether it's a room packed full of listeners or an intimate group, Zena can grab your attention, demystify your understanding and replace it with clarity of vision.
If you're looking to get inspired – simply come along and join in!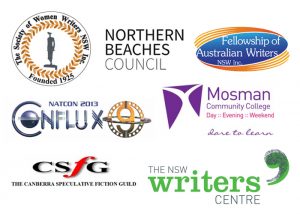 She has taught at the Fellowship of Australian Writers, the NSW Writers' Centre, the Society of Women Writers NSW, Mosman Community College, Sydney's Freecon, Conflux, Natcon and for the Northern Beaches Council.
She also teaches young writers!
To arrange for Zena to speak with your group, please get in contact and suggest your date, audience and venue.
–
Current Adult Classes:
Introduction to Creative Writing – 3 hr seminar
Creative Writing Skills Bootcamp – 5 to 6 hr workshop
Vividness & Voice – 2 hr workshop
Make Talk Matter: Dialogue Masterclass – 2 to 3hr workshop
Writing Science Fiction & Fantasy – 1 x 6.5 hr or 2 x 3 hr workshops
Stories Are About Change – 2 hr workshop
The Year Your Book Gets Written – 11 x 2 hr workshops + 10 hrs mentoring
Write Your Life Story – 1 x 6.5 hr or 2 x 3 hr workshops
How to Self-Publish a Book – 4 hr seminar
Social Media for Writers – 3 hr seminar
Blogging for Connection – 3 hr seminar
Author Promotion & Marketing – 1 hr seminar
For Young Writers:
Problems In Wonderland: Stories That Matter – 1.5 hr workshop for writers aged 5-9
Vividness & Voice – 2 hr workshop for writers aged 9-18
Make Talk Matter: Dialogue Masterclass – 2 to 3 hr workshop for writers aged 9-18
Write Your Own Book – 1 day class for writers aged 9-18
Writing Technique Development Day – 1 day class for writers aged 9-18
Upper Primary Focus – 2-3 hr workshop for writers aged 8-12
High School Focus – 3 hr workshop for writers aged 12-18
Creative Writing Camp for Young Writers – 3 day extension camp for gifted & talented writers: TO COME!
(WWC number: WWC1293942E)
Testimonials
"Last Friday I had the great pleasure of listening to Zena speak at the NSW Writers' Centre. It was one of those inspiring moments when I gained an insight about moving my author journey to a new level. Having focused on the writing side for the last three years, I now need to learn how to communicate and engage with my audiences. Zena clearly and simply explained how to do this, interspersed with personal anecdotes told with a natural storyteller's flair. I am now really looking forward to reading her first novel. The idea behind it sounds intriguing and I am sure that the product when told in Zena's lucid writing style will be outstanding."  Graham Wilson, author.

"Thank you again for the writing course on Sunday. It was clear, precise and well planned. I learnt a lot and have written my 'children's' story to a full 500 words which is what I understand the publishers want. I may not pursue it but I was so excited after doing the exercise on your course that I thought about it all the way home, then during the night and just had to write it. This is a compliment to you that you stirred up such excitement in me that I gave up other things to write. Years since I've done that." Shirley La Planche, author.

"Thanks for a really informative seminar. You covered a lot of ground in a nice breezy way." Claire Scobie, writer.
"Hi Zena, I just wanted to drop you a line to thank you so much for last Saturday's Creative Writing course. I absolutely loved it and it was exactly what I was looking for. Even though I've been a journalist all my working life… news journalism is not always that creative, more factual. Not sure if you have an email list but if you do can you please add my name and email! I would love to work with you some more!" Jenny Ward, journalist.
"I found Zena's course very helpful and it certainly matched my expectations. It provided a clear pathway to writing my novel. The practical, easily understood writing tips, which every writer can apply to whatever works they choose, were excellent. I valued her feedback greatly to help me improve as a writer." Peter Fagan, writer.
"I wanted to learn how to write fiction. I didn't think there was a much better way to do this than to have an award-winning local author teach me some core creative writing skills and techniques. I loved the practical writing exercises and expert feedback from Zena in a supportive group environment. Her "Writing Safari" course helped me to go home and actually start writing, instead of procrastinating in front of a blank page. I gained not only fundamental skills, but also self-confidence. I am more creative than I think I am! The 'Big Five' skills I learned – character, setting, voice, structure and self-editing – have additionally strengthened my writing in other genres, such as memoir." Leah Boonthanom, writer.

"I recently attended two sessions of a three-hour writing class by Zena Shapter. It was a total delight, highly informative and presented in a relaxed, common sense and professional manner. Zena provided us with easy and useful, hands-on information for writers, writing exercises, and self-editing information. The course motto was: write, write, write. I loved it and would recommended it to anyone wishing to begin or improve their writing!" Irene Ashburn, Autobiographer.
"Every time I go to one of Zena's writing classes I learn more to help me develop my writing skills. There's still a long way to go before what I produce can be called 'art', let alone 'competent', but Zena always points me in the right direction. There have been many head-slapping moments when I thought of my writing: 'Why didn't I see that before?'." Philip Rhoades, writer.

"Thanks so much for an awesome day of learning and connecting on the Central Coast, Zena. I really appreciate all you had to offer us and appreciated you sharing your creative writing process with us. You Rock!! :-)" Lisa J Butler, writer.
"I learnt more in that single hour about creative writing, than I have all day!" Peter Dickison, writer.
"I would recommend Zena's writing classes to anyone who wants to take the leap into writing. Her class is informative and fun – the day flew by. I walked away with key information but also real steps and exercises for writing on my own. I also saw a few things in my own writing that I can now work on and improve, and the confidence to explore my own voice. I found the day insightful." Renee Mansfield, writer.
"Zena's year-long writing course gave me the confidence to start writing. I particularly liked the development of our scripts that Zena helped with, and the hints as to how to get round tricky situations. Also the exercises that we wrote in class… helped flesh out what sort of writers we were and our own style compared to others. I found this very helpful. Zena's ability to classify what we were writing into a pigeon hole was great. I had no idea mine was sci fi! This then lead to how many words we would need to write for our book and whether there would or could be a series of books from the one idea. Zena was also able to handle writers at different stages of their work in the one class, which meant that all of us could benefit from the one class. I do not think anyone in the class felt that it was not aimed at them. What was also great was that we each got 10 hours of personal coaching and Zena could then concentrate on our individual work. She is a discerning woman with a great memory, a quick wit and a way of writing that can get round problems. She is good at ordering your thoughts so that you can order your work!" Claire Cavanaugh, writer.
"Twenty-five years ago, I wrote my first book and submitted it to five London publishers, complete with a marketing promotion proposal… After completing Zena's excellent writing course, I understand it lacked both drama and good structure. She gave me the structure and skills to craft a new book that I yearned to complete. Zena is an excellent guide who is experienced in giving budding writers the structure, skills and challenges to complete the book lurking in their being. Such is my enthusiasm that I have another two books planned after this trilogy, with a target to becoming a published professional author. Thank you Zena for your expert guidance!" Stephen Berry, writer.
"Wonderfully presented and very comprehensive introduction for new, fledgling and accomplished writers." Maureene Fries, writer.
"Excellent presentation. Obtained a very good idea on creative writing techniques." Yauter Ratnamsashore, writer.
"Very engaging and much more than I expected." Maureen Hennessy, writer.
"Zena was excellent, informative, and I enjoyed her seminar thoroughly! I'm a reader who wants to write for my own enjoyment. Books inspire me! And Zena was top notch! She speaks and presents to all levels! Thank you, Zena!" Lynda Harwood, writer.
Very comprehensive with a good overview. Great presenter – easy and relaxed style – gave great examples when explaining aspects of story writing. Zena's experiences in the literary field are invaluable and sharing these with aspiring writers gives them the confidence to pursue their dreams. Thank you, Zena!" Janice Rowan, writer.
"Zena was an excellent speaker. Her handouts were also very good." Wendy Watson, writer.
"Totally inspiring and I loved it. Zena made it totally easy to learn and a real pleasure to listen to. Keep up the great work!" Louise Dicks, writer.
"I'm already writing and thought I would not learn much from an introductory seminar. What a surprise! Best presentation on all the tools a writer needs. Better than other courses at NSW Writers' Centre!" Meg Dunn, writer.
"A great insight into writing, a very knowledgeable approach, thought-provoking." Sheryl Taylor, writer.
"The speaker Zena Shapter was excellent – very personable with great tips!" Frances Jackson, writer.
"Many thanks for the informative and inspiring day spent writing and digging into our creative 'talents'. I enjoyed the time which flew passed and was most challenging and stimulating." Ruth Purdie-Smith, writer.

"Our writing groups from Ettalong and the Hunter Valley attended presentations by Zena on Social Media for Writers and Vividness & Voice, funded by a grant from Romance Writers of Australia. At our stage of development, we found these a great help and highly recommend them for emerging or published writers wanting to develop their art and promote their work." Anne Swan, writer.

"Dear Zena, I really enjoyed your two short courses: self-publishing and author promotion. The course work and the way it was presented was very useful and practical. Many thanks." Anne Donnelly, writer.
"Thank you for that workshop, Zena. It was very good to get genuine, helpful feedback on my writing. Some very useful general insights too." Peter Fagan, writer.
"Zena does a great presentation on how to use social media. She's enthusiastic, she's entertaining and, best of all, she's very, very clear!" Richard Harland, internationally bestselling fantasy author.

"I've attended a couple of Zena's workshops and her knowledge of internet media is astounding. Her skill and expertise are inspiring, matched by her warm personality. Can thoroughly recommend her presentations." Beatrice Yell, former president of the Fellowship of Australian Writers, Manly.

"Zena's workshop course: 'Introduction to Social Media' is methodically well-presented. With everyone awake and participating, it sure is fun. She has unravelled many of participants' confusions and for this, we are grateful. Thanks, Zena." Edita Diamante, Secretary of The Society of Women Writers NSW.

"My previous website was a financial drain. Then I went to one of Zena's Blogging Workshops, and magic happened! The course was so enlightening and I started to realise how much better my website could be done for a lot less cost and stress on my part, and much more enjoyable. I have now been having private tuition with Zena because I find it much more productive one to one. She has empowered and taught me how to design and constantly update my website so I can add photos and information whenever I want without having to pay someone who doesn't have the same passion for what I do." Victoria Hannah, small business owner.

Want to arrange an event of your own?
To arrange a talk, workshop or seminar, please just get in touch!
Save
Save
Save
Save
Save
Save
Save
Save
Save
Save
Save
Save
Save
Save
Save
Save
Save
Save
Save
Save
Save
Save
Save
Save
Save
Save
Save
Save
Save
Save
Save
Save
Save
Save
Save
Save
Save
Save
Save
Save
Save